The weather may seem to indicate the contrary, but I promise you, the season of spring is upon us!  It's a good time of year to reflect how easy it is to bring in some fresh elements to your home interior.  Not everyone has a compatible color palette for what may be considered the "go-to" pastels of the season.  I know I don't, but with a little creativity you can work with pieces you have collected and love to tell a fresh spring story.
Here's a peek at a corner of my dining room: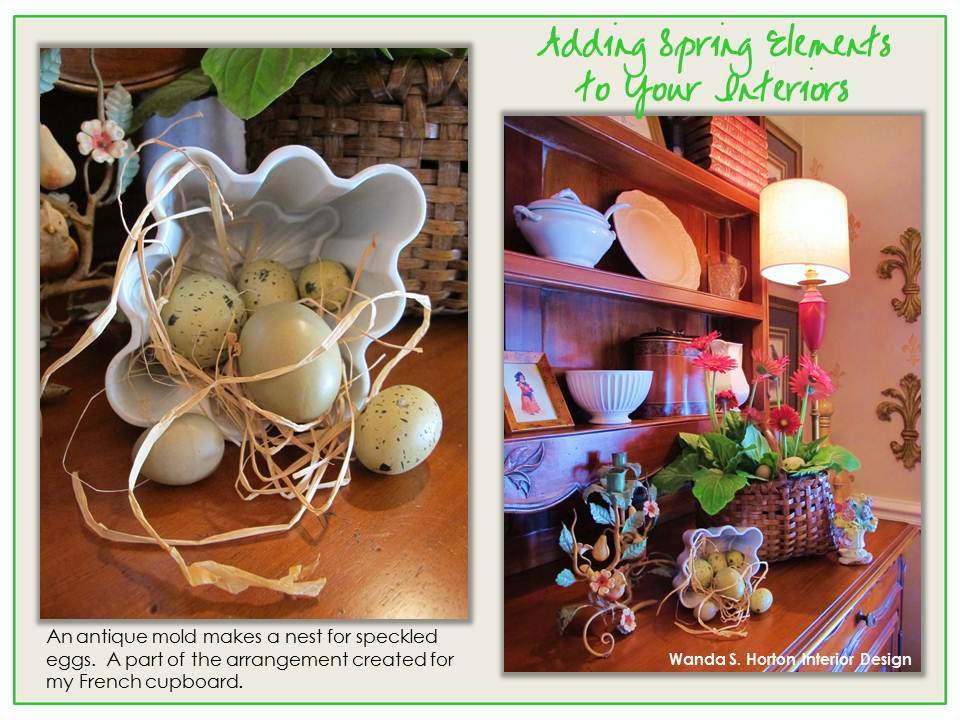 An antique, French cupboard stays neutral with ironstone, and it allows me to ease in and out of the different seasons by simply changing up a few items.  One of my favorite colors is red, so I've used accents to tie in some of my fabrics, as well buffet lamps and some portrait miniatures.  It's okay to go up or down the scale from a saturated color.  It just has to be in the right tone, and you want to be sure that your main color pops as the focal point.  Don't split it 50-50, or the eye won't know where to rest.
If I am going to add seasonal decorations, I like to think of the longevity of their use.  A couple of years ago, I purchased some very realistic, speckled hen's eggs and they work well for spring décor and even look great in plantings for the summer months.
You can tuck eggs like these into a basket of planted flowers for texture. These gerbera daisies were in the local garden center and they can be replanted at a warmer time.
Martha Stewart had a segment on the "Today Show, featuring this design.  Very fun!  There are lots of tutorials on Pinterest, with the main tools required being paint and a toothbrush for splattering.  The kids would love it!
If there is a universal symbol of spring, it is bird motifs.
My Italian toleware birds speak that universal language of spring that is welcome throughout the summer.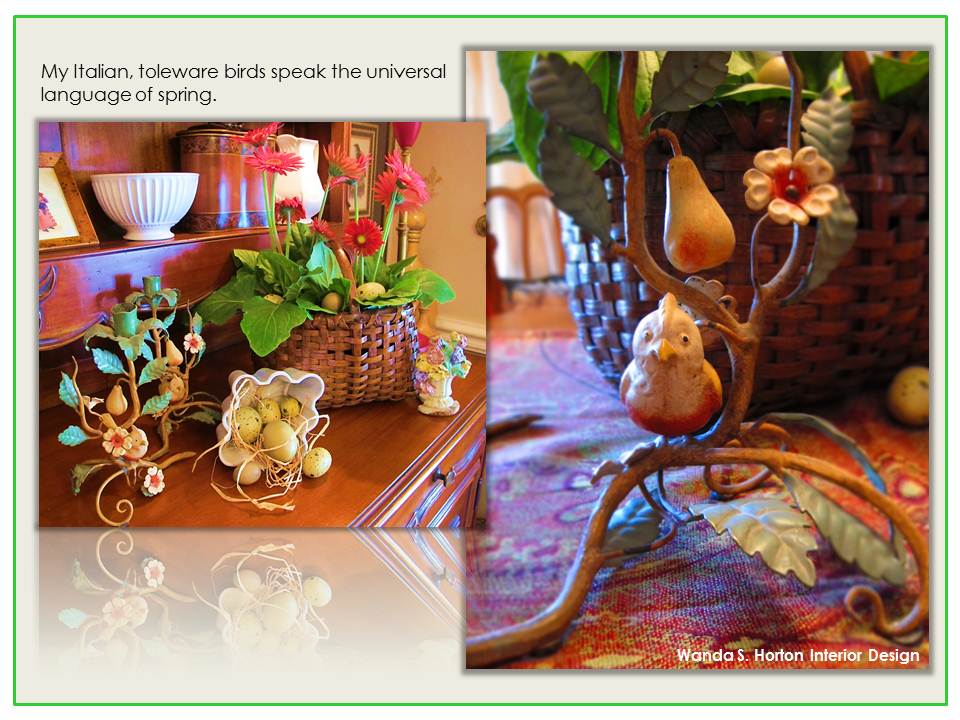 It's nice to bring in pieces holding special memories.  I've always treasured a split-oak egg basket, passed down to me from my grandparents.  It came from my great-grandparent's farm, so it has seen a lot of love but it's amazingly well-preserved.  The potted, gerbera daisies fit right inside and it creates the larger focal piece needed as the backdrop for my grouping.
I can just imagine the hens clucking away, and I would like to think they laid some perfectly speckled eggs just in time for a Sunday brunch.  They would probably call it breakfast, but in those days, it probably was the equivalent to our brunch.  My grandfather's family came from Germany, so there were always lots of pastries and such on the table.
There are so many great pieces in the Hooker Furniture line to display your own treasures that tell the story of spring.  Here are a couple of my favorites:
The Primrose Hill cupboard is the perfect accent piece for staging your spring accessory collections all year round. It's not only functional, it brings in a lovely depth and character to any interior.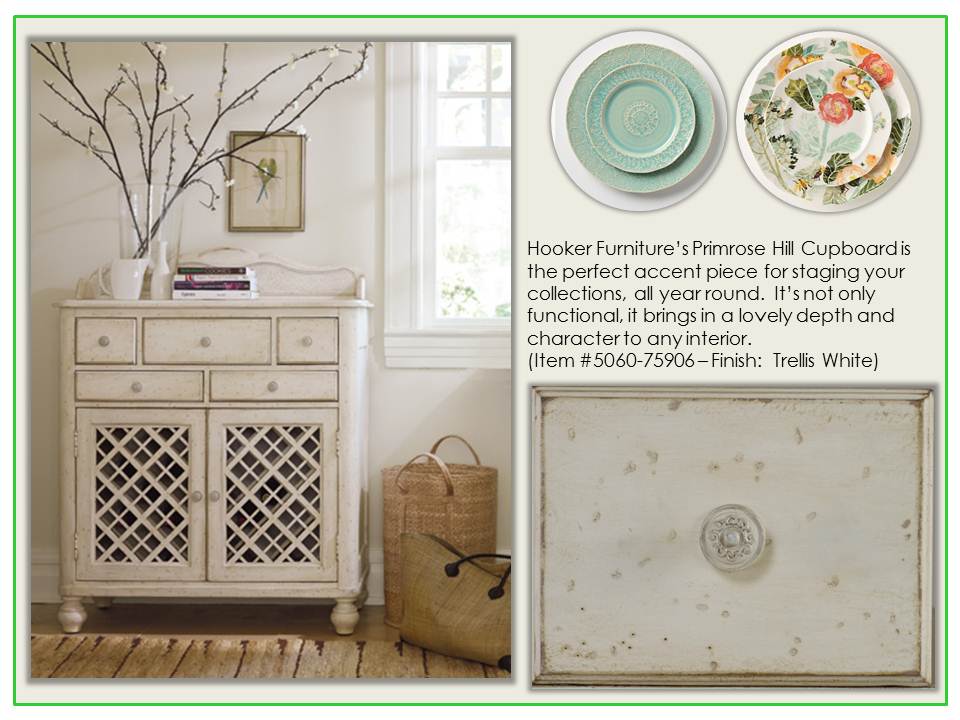 A dining room buffet like the Primrose Hill buffet in Villa Brown finish offers many possibilities! From furniture for dining room area to even an entry foyer, this two-door, two-drawer piece can be adapted from formal to cottage with the right mix of accessories.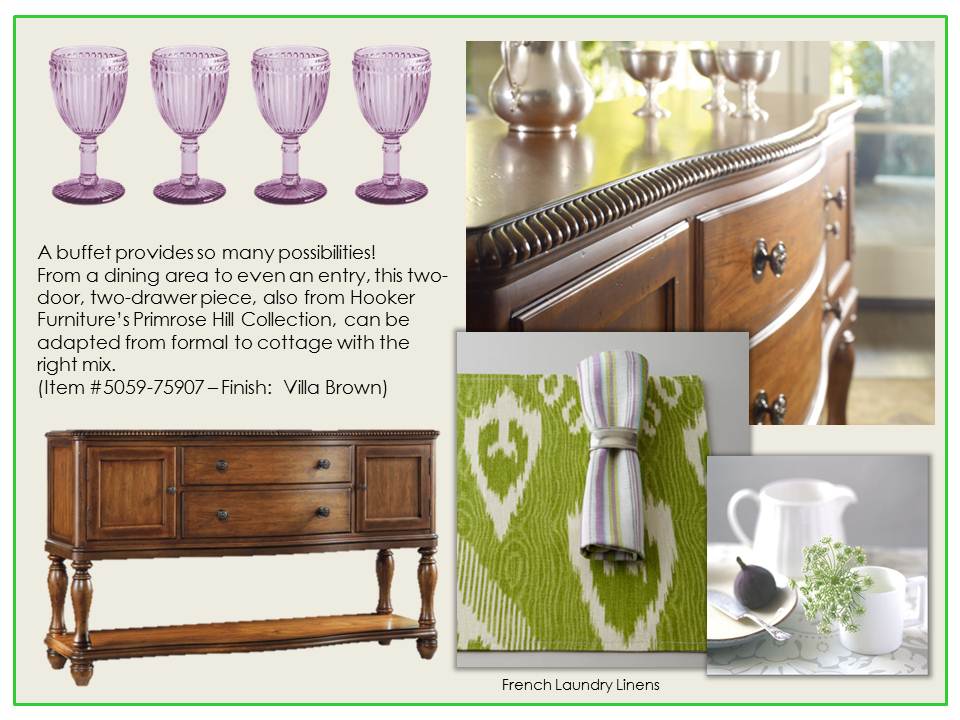 Does this have you ready to "spring" into action?  Be sure to post your creations on the Facebook Page for Hooker Furniture Corporation.  We can all inspire one another!