There's nothing like pampering yourself with a few extra winks on winter weekends, especially if it involves someone delivering breakfast to you in bed.  A delicious pot of coffee or tea with a favorite fruit bowl, maybe some special pancakes . . . it all tastes better when it's served with a touch of love!
Before we chat about the importance of the room setting and the service, let's look at some recipes to tempt your taste buds.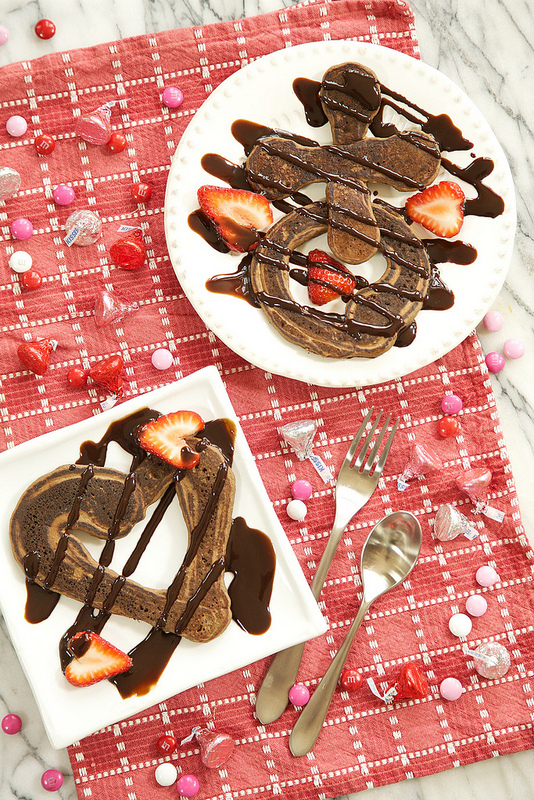 Chocolate Pancake Love Letters from Apron Strings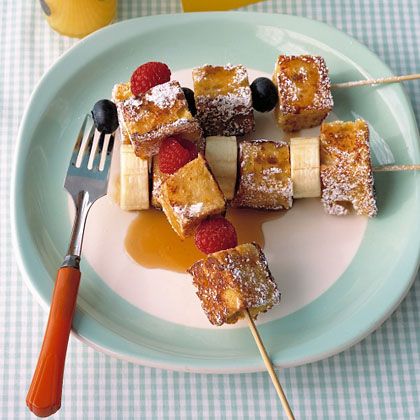 French Toast Kabobs, from Martha Stewart, would be great fun for the kids to make. Maybe a family picnic on top of the bed blankets?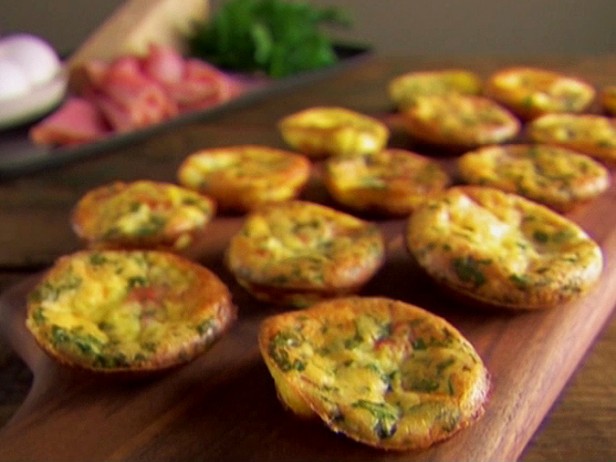 Mini Frittatas would be delicious with a warm scone or muffin. A quick recipe from Giada De Laurentiis
By keeping things tasty, but simple, it will be more of a pleasure to serve these treats to your special someone.  A little prep, the night before, will help you to ease into your morning, too!
Of course, the setting is also so important.  Beautiful bedroom furniture and bedroom sets are the culmination of putting together layers of comforting and relaxing elements.  Having a great bed tray is also important as it serves a dual purpose of transporting food and as the "table" top.  In some cases, the tray can actually be a piece of furniture, designed in a clever way.  I found some lovelies to be shared.
I'm a huge fan of multiple-functioning furniture, and I think the idea of a rolling bed tray/table is super clever.  It can push to the end of the bed to hold a coverlet or rolled down duvet and then roll back towards the sleeping end so you can enjoy some nighttime reading.  Best of all, it becomes a wonderful place to serve that special morning breakfast.  A bit of luxury and practicality all woven together.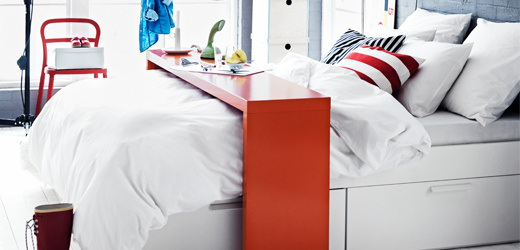 If your taste leans towards modern, a Parson's style table with casters, like this design, would be the solution.  Be sure to measure the bed and mattress heights to allow for clearance.  Image – Via
An upholstered headboard, especially a tufted one, brings the comfort of a great chair right into the bedroom.  I love the wings on the Palisade Shelter Bed by Hooker Furniture, as it shelters and wraps the occupants.  I also appreciate how it balances between masculine and feminine, so well.  Change out the industrial sconces to brass and tuck-pleated shades and a whole different style can be had.
The Palisade Shelter Bed is available in both Queen and King sizes.
Another upholstered bed option is the Classique Bed, above, also by Hooker Furniture.  Softly curved, it beckons for some extra moments to stay tucked in while enjoying a little room service.  Upholstered pieces can still be family and pet-friendly, with an application of fabric protectant.  I'll bet true confessions would reveal how lots of fur-family members find a spot in the "big bed".  I always say that's why washable throws were invented.
Of course, the ultimate sweetheart's gift would include some sparkle.  I'm thinking bigger than a Tiffany box.  How about a mirrored headboard and a crystal chandelier to really set the stage?  And if the paint matches that magical box, so much the better!
My ultimate pick for a romantic bed? The Sanctuary Tufted and Mirrored Bed by Hooker Furniture.
Remember, sharing heartfelt treats isn't only about the cards, the chocolates, the flowers, and the jewels in the world.  It's about showing your affection to the people who mean the most to you.  Try demonstrating your affection by whipping up something special and lovingly serving it on a tray.  Now that's the stuff of love!