In many parts of the country, sounds of the classic song, "Let It Snow, Let It Snow, Let It Snow"  might not be met with the enthusiasm Sammy Cahn and Jule Style were hoping for when they penned it in 1946. These past months, the snow has just kept on coming, with inches becoming feet. Boston has more snow than some ski resorts in the West.
But when the lyrics remind us that "the fire is so delightful," we can indeed put our hands together.
Whether wood, gas or electric, a home hearth gives us special warmth–a place for family and friends to gather to share moments of good cheer, as well as peace and quiet…especially in these days when it just keeps on snowing.
MANTEL "SCAPES"
"The mantel serves as a center-point of a home, and you usually design a room around it." –Joan Enger, J. Patryce Design
Joan Enger's perspective on mantels rings true. No wonder the words, "hearth and home" are paired together so often!
One of the sources I frequent for decorating inspiration is Bunny Williams' book "An Affair with a House." Bunny inspires because she brings the personal to every inch of her house, as shown in the opening photo with her kitchen mantel next to a blazing fire.
Here are a few illustrations of just how personal and charming this tiny piece of real estate in your home can be:
And what works for the mantel can also work for similar spaces on credenzas and tabletops such as these mantel-like console tables from Hooker Furniture's Melange Collection.
Even if you do not have a mantel in your home, you can use a credenza, sofa table or console table as a mantel-like focal point.
Creating Mantel Memory Boxes
In my own home, I have always resisted the scenario of a candlestick on each end of the fireplace mantel. Instead, I often have a changing scene, depending on my mood or the time of year.
At the center of this tableau is a small marble bust, a family legacy, along with two other small sculptures, both gifts. Old books always make wonderful decorative items–one of these is a found object. Anchoring the display is a miniature chest and a pottery jug from contemporary North Carolina artist Matt Jones. these different things combine with an eye to scale, texture, color and most importantly, meaning.
Furnishings like this Malawi Tonga Chesterfield Sofa and Amista Club Chair would be at home with such a mantel display.
Afternoon Tea
For those of us who love tea cups, can we ever have enough? And add to that, fanatics for blue and white china. That combined theme dictates this mantel arrangement, using an inexpensive cake dish to corral some of the cups. Why so many cups? I could not resist when finding this stash of Wedgewood Blue Willow at a second-hand store, and purchased the entire offering.
The painting is a copy of one by German artist Gabriele Munter, who viewed a snowy scene with her "Breakfast with the Birds." the seated woman is thought to be Gabriele herself–and we are told this painting was done along with five others one day. One bird seems to have "flown in" from the art here–a sculpture from British artist Emily Sutton. The teapot is Royal Copenhagen, as are several of the cups. The big blue vase is an original Pottery Barn purchase, when this now famous retailer had stores in New York which often sold "seconds."
Lessons here: Have fun with what you have and what you love, and be as whimsical as you like.
Of course, tea lovers would want a romantic place to enjoy their favorite beverage, such as the Ceira Skirted Club Chair with a deluxe seat cushion and a deep teal blue Melange Semblance Accent Table.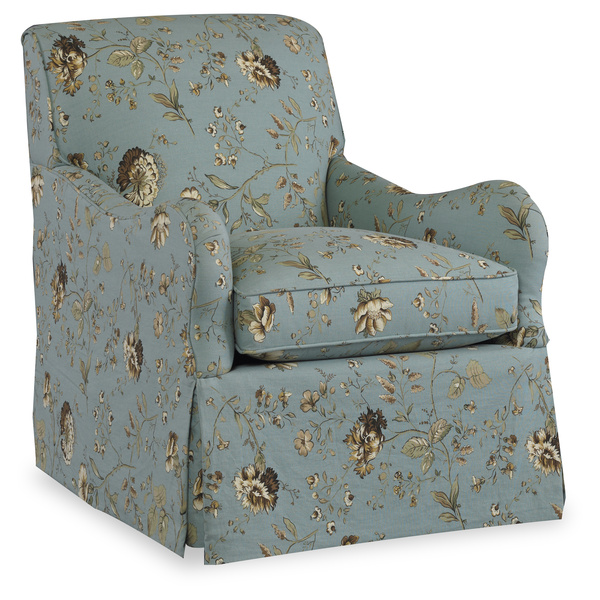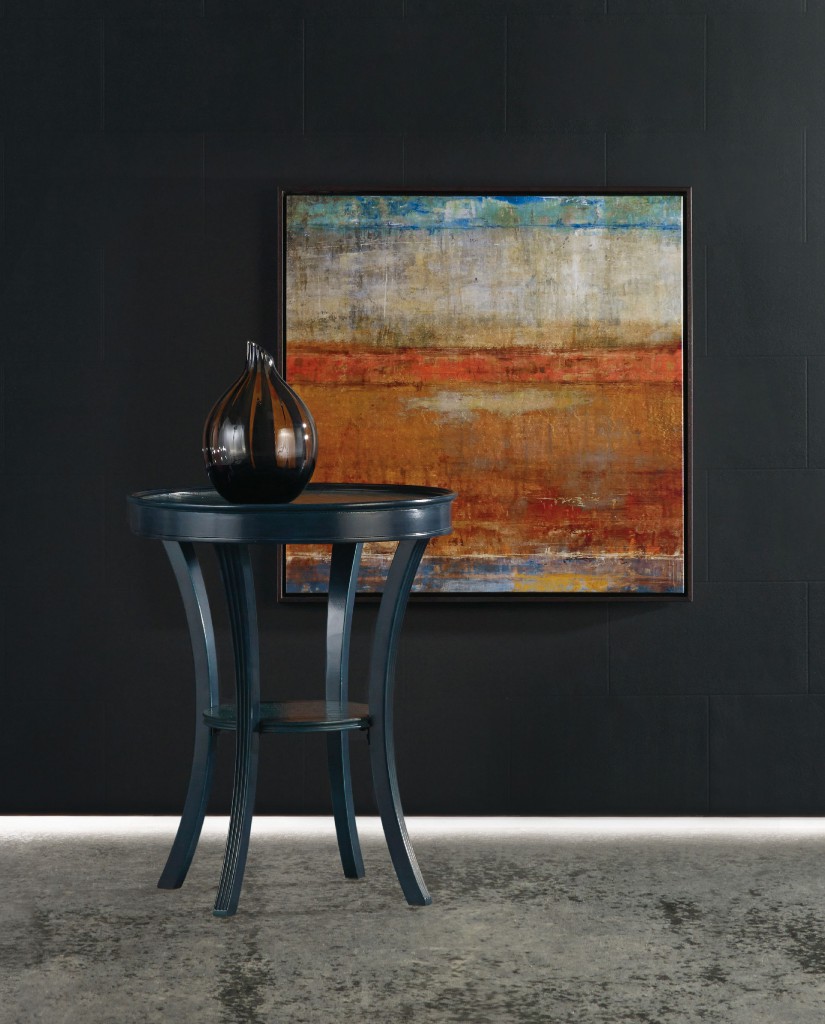 Dreaming of Spring
Two dozen tulips command this arrangement of loved objects. Here is a tiny music box with a rose motif, as well as needlepoints a-blooming. There is also a new book just in from Yale University Press to comfort the soul yearning for fields of flowers:" Of Green Leaf, Bird and Flower," a balm to nature lovers. The extra large cup and saucer is a pop art piece by artist Mary Rose Young, whose surprising passion is roses everywhere, especially, she says, to brighten mantelpieces and windowsills.
Celebrating the Young at Heart
Every family keeps reminders of childhoods past, including first drawings, lovingly preserved. Dark wood and a silver tray in the center drawer make the Palisade Buffet an ideal staging ground for your beloved things.
 The truck on the mantel is a 1930s Buddy L. It's under every year's Christmas tree transporting a "very special present." Driving is one of ReMinkie's Memory Bears, crafted from men's vintage ties. Rita Glosser will create a toy for you from your own ties or other keepsake fabrics, like quilts.
A perfect warming beverage to serve on a cold, snowy day–celebration or not–the world's best hot chocolate!
Sum: Making it more delightful by the fire can kindle your own creativity as you enjoy the warmth of the hearth as well as the tiny but important piece of real estate above it. Have fun!