Most of the year, my family eats on the run, scurrying around like hamsters on a wheel. But come the holidays, we hit the pause button and return to the tradition of dining together at the table–a practice which we've realized, over the years, is more about making memories and savoring the season than just collectively chowing down.
 Whether your upcoming holiday gathering will be intimate or overflowing with family and friends (98 million of Americans hit the road during the holidays and they have to eat somewhere!) —wouldn't you like to treat guests to some fine dining that they'll long remember? That's easy to do–from Thanksgiving to New Year's Eve–if you follow these tips:
* Tip #1–Start with a Wow Dining Table and Chairs
Enough with expecting guests to eat wherever they can find a spot on the sofa or leaning over the kitchen island. Give them a seat at a table worthy of their presence, and one that promotes conversation and connection.
 Named for a castle in Northern England, the Tynecastle round pedestal dining table is ideal for smaller gatherings. This lovely table combines classic Georgia architectural details with rustic timber frame elements and accents for a 'manor home to tack room' Hunt Country reel that's particularly nice at Thanksgiving.
And if unexpected pilgrims land on your doorstep? No worries.  Tynecastle comes with an 18″ expansion leaf so your table can grow as need be.
 A graceful silhouette, luxe leather seats and burnished nailhead trim give Tynecastle side chairs their to-the-manor-born feel.
The Tynecastle Buffet serves up ample storage for china, crystal and fine linens.
Fashioned from eco-friendly acacia wood in a warm rich finish, the Scandinavian-inspired Studio 7H Geo Trestle Dining Table shows how elegant modern, organic design can be during Christmas.
With cushy upholstered seats and backs, it's easy for guests to get comfy in Studio 7H Stol side chairs. For added serving space, the Studio 7H Norden Storage Credenza can function as a buffet.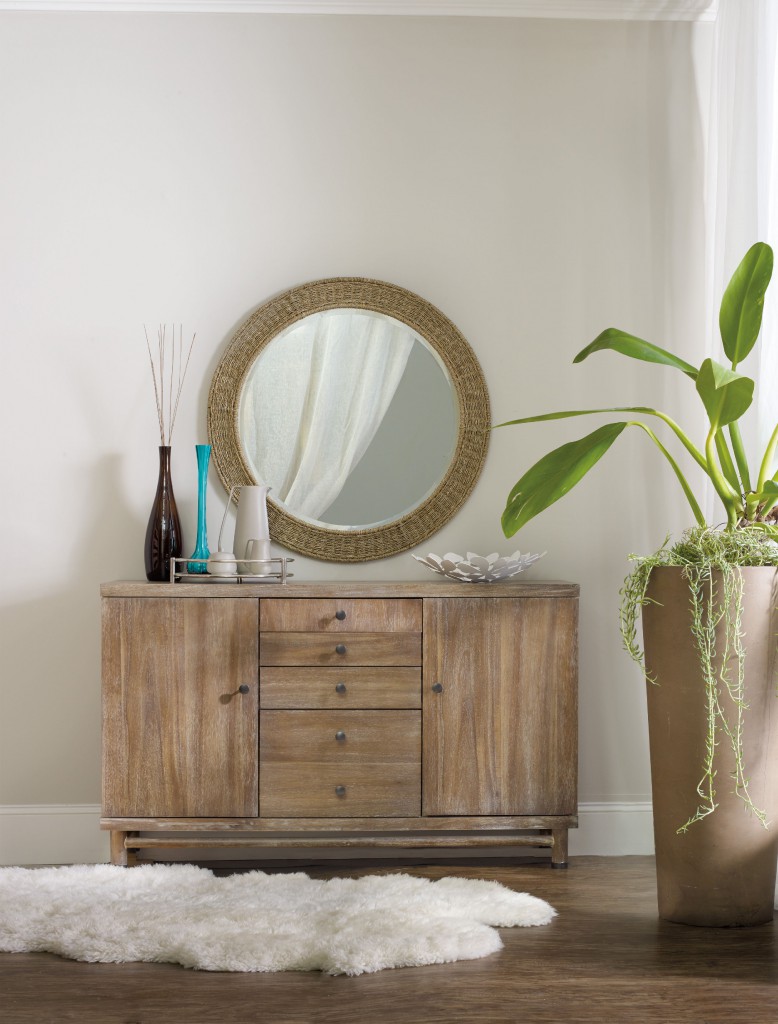 And because Norden has four adjustable shelves, it can easily store essentials of varying shape and size like pitchers, bowls and trays.
Aptly named, the Treviso Trestle Dining Table embodies the spirit of the Italian province for which it's named. With a dark macchiato rubbed finish that reveals the warmth of the wood, Treviso has a soft surface texture that makes it look like an Old World antique that's naturally aged over time.
Upholstered in fabric and leather, the Treviso camelback arm chairs and Treviso camelback side chairs have mastered the mix.
With its slender 19-inch depth, the Treviso console table can double as a buffet server in even the most space-challenged dining area.
Tip #2–Dress Your Table Up.
Add some sparkle, shine and scented sprigs.
Bring out your best china, crystal, flatware and linens and go all out. After all, what are you saving them for?
*Tip # 3–Top off the Meal with a Divine Dessert
Lemon Gateau from "Citrus" by Valerie Aikman-Smith and Victoria Pearson fits the bill perfectly. It's a chic-sounding cake that's easy to make and absolutely scumptuous.
 Lemon Gâteau
 Serves 6
 This simple little cake boasts an immense tart lemon flavor. Dress it up with candied lemon slices or eat it just as it is. Either way, it's a treat.
 2/3 cup unsalted butter, at room temperature
3/4 cup granulated sugar
Zest and juice of 3 lemons
2 eggs
3/4 cup all-purpose flour
1/2 teaspoon baking powder
2/3 cup confectioners' sugar
 Preheat the oven to 400°F. Butter a 9-inch round springform pan, then dust with flour and tap out the excess.
 In the bowl of a stand mixer fitted with the paddle attachment, cream the butter and sugar together on medium speed until light and fluffy. Slowly pour in one-third of the lemon juice, and then add the eggs, one at a time, and continue to beat until well combined. Add the flour and the baking powder and continue to beat until a thick, smooth batter forms. Using a rubber spatula or wooden spoon, fold in two-thirds of the lemon zest until evenly combined. Pour the batter into the prepared pan.
 Bake the cake for about 25 minutes, until a thin wooden skewer inserted into the center comes out clean. Transfer to a wire rack and prick the top of the cake all over with the skewer. Set aside.
In a small bowl, whisk together the confectioners' sugar and the remaining lemon zest and juice. Pour the glaze over the cake, and allow to sit for 10 minutes. Remove the cake from the pan, slide it onto a plate, and serve 
Reprinted with permission from "Citrus" by Valerie Aikman-Smith and Victoria Pearson, copyright © 2015, published by Ten Speed Press , an imprint of Penguin Random House LLC. Photographs copyright © 2015 by Victoria Pearson.
 The holidays are upon us. Are you ready to dine fine?