An Inspired Thanksgiving
Creative tabletop ideas to make your holiday memorable
Each year, the holiday season brings the opportunity to host family and friends. Sure, there's a lot of planning, shopping, cooking, and cleaning—but the memories we create make it all worthwhile. I like to make each season special by changing up my décor and recipes just a little every year. Nothing drastic, and I don't mess with the traditional favorites, but incorporating a few new ideas are just enough to keep things fresh. To save you time, we've gathered the top décor ideas and recipes together to help you create a casually elegant holiday.
An Elegant Farmhouse Tablescape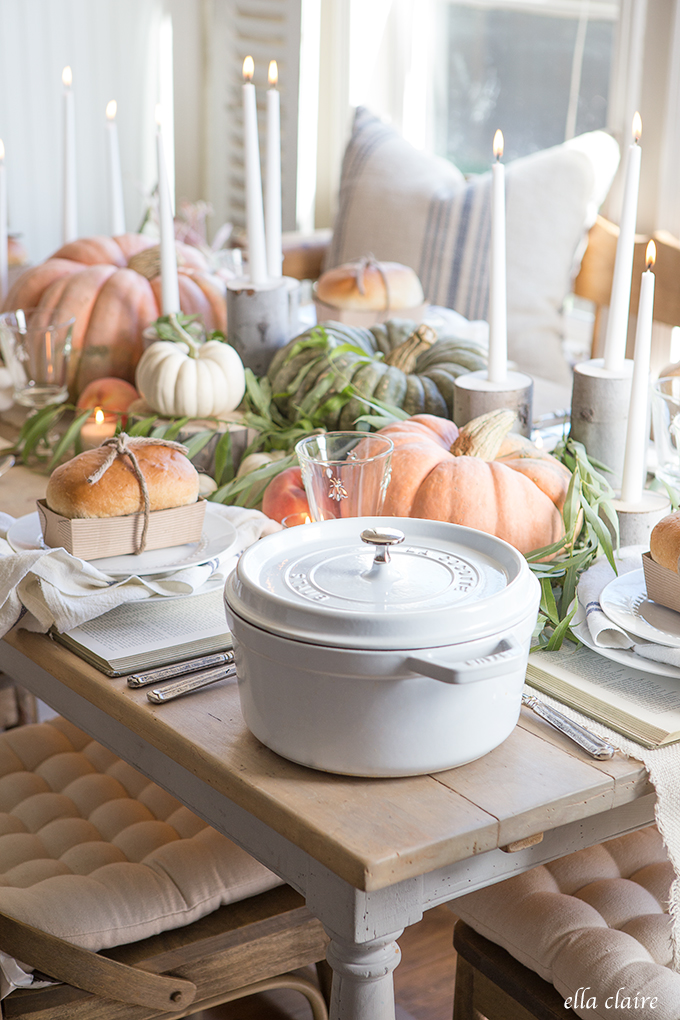 I'm a big fan of subtle color palettes, such as this Thanksgiving tablescape featuring soft natural hues. I love the country pumpkins in shades of white, green and orange, the taper candles in birch holders, the neutral dinnerware, and the individual bread loaves. Don't miss the most creative part of this design—the use of an open book as a base for each place setting.
The subtle color palette of the elegant farmhouse tablescape would work perfectly on the antique grey-white finish of the Boheme Colibri Trestle Table.  Expandable to 88 inches, it offers plenty of room for a big holiday crowd.
A Casual Chic Tablescape
Creative Food Presentation
For the most inspired holiday, decorating the table is just the beginning. These creative food presentations delight the eye throughout the meal.
Check out many, many more creative Thanksgiving décor and recipe ideas—like the pumpkin place cards above from housebeautiful.com—curated for you on this Pinterest board. And, Happy Thanksgiving!