True romantics are all about getting to the heart of the matter. But traffic jams, pricey movie tickets and long restaurant waits ca take their toll on even the most ardent Cupid. But it doesn't have to be that way. If you're ready to woo in a way that's new, show your home some love and make it the scene for date night every night.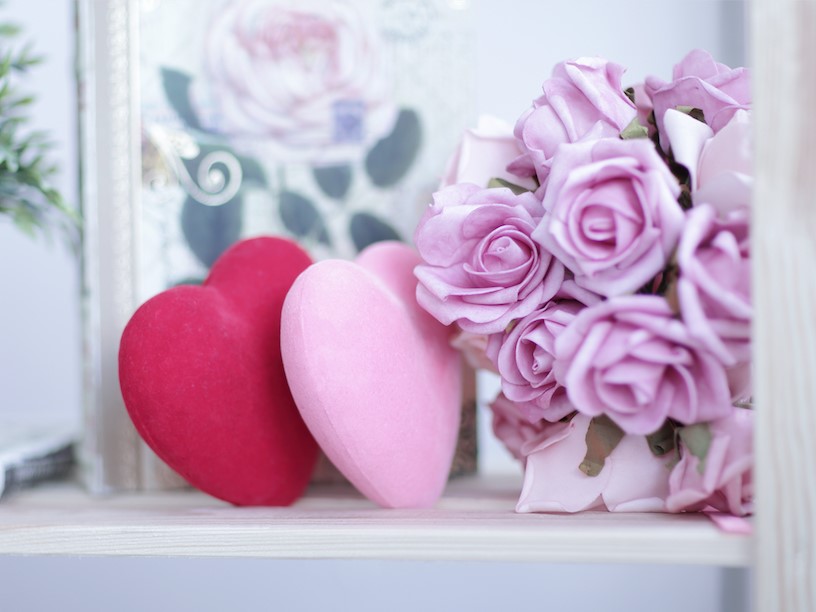 After all, home is where the heart is!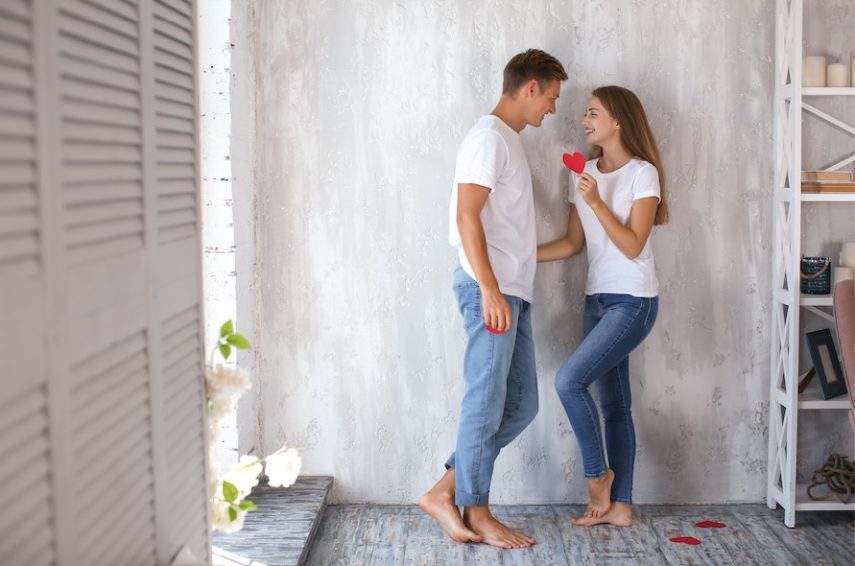 Make relaxing together at day's end an irresistible thing to do with Randleman, a luxe leather sectional with plush Spring Down cushions. 
Take date night romance to new heights with the Boheme Ascension Dining Table that can be adjusted from 30-inch dining height to 36-inch counter height. And its smaller size makes this table ideal for everything from cozy candle-lit dinners to leisurely breakfasts spent sipping coffee and watching the sun rise. 
At first glance you'd never guess that the chic  Modern Romance Writing Desk is a romance command center. And yet, it is. With a drop-front center drawer that houses a keyboard, this kidney-shaped desk makes it easy to dash off a quick text or email. Or reach inside its two top drawers for a removable pencil tray and writing insert, then go old school and treat your sweetie to a handwritten note that'll be cherished for years to come. 
To add a modern graphic punch, stain or paint unfinished wood letters (found at craft stores). Then glue them together to form an endearing word or message.
 In addition to keeping media room equipment neatly stored on adjustable shelves behind each door and in an open triple section component area, the Big Sur entertainment console delivers an unexpected, romantic perk—an electric fireplace insert with LED flames that flicker like the real thing and deliver warmth from a a built-in fan-forced heater to warm up your date night. 
Adorned with dramatic details like button-tufting and a crown motif headboard, Reverie romances the bed -and everyone nestled in it.
In cooking, as in life, some of the most fabulous pairings occur when opposites attract. In this easy-to-make scrumptous recipe, sweet caramel and spicy ground black pepper come together with the help of decadent Dutch chocolate.
Salt and Pepper Caramel Brownies
from The New Sugar and Spice by Samantha Seneviratne
They say that freshly ground black pepper wakes up the salivary glands and enhances our ability to taste food. Who wouldn't want to taste their brownies more completely? Black pepper also adds an unexpected smoky, floral note to the classic treat, making them complex and irresistible. The bittersweet, salty caramel is indulgent but heavenly.
Makes 16 large or 25 small brownies
Brownies:
1/2  cup (1 stick) unsalted butter, melted and slightly cooled, plus more for greasing the pan
3/4 cup (3 3/8  ounces) all-purpose flour 1/2 cup (2 1/4 ounces) Dutch-process cocoa powder
2 1/2 teaspoons freshly ground black pepper
Page 4—Date night every night at home blog text
1/2 teaspoon baking powder
1 cup packed dark brown sugar
2 teaspoons pure vanilla extract
1/2 teaspoon kosher salt
2 large eggs
Caramel:
2 tablespoons water
2/3 cup granulated sugar
1/3 cup heavy cream
2 tablespoons unsalted butter
1 teaspoon pure vanilla extract
1 teaspoon fleur de sel or kosher salt, for sprinkling
Preheat the oven to 325°F. Butter an 8-inch square baking pan and line it with parchment, leaving a 2-inch overhang on two sides. Butter the parchment.
To prepare the brownies, whisk together the flour, cocoa, pepper, and baking powder in a medium bowl. In a large bowl,  whisk together the brown sugar, vanilla, salt, and eggs. Add the melted butter to the sugar mixture and whisk until smooth. Fold in the flour mixture. (You could throw in some chocolate chips at this point, but that might just be gilding the lily.)
Pour into the prepared pan and bake until just set, 2 4 to 26 minutes. As soon as a toothpick inserted 2 inches from the center pulls out very moist crumbs, not runny batter, pull the brownies out of the oven. Set on a rack to cool.
To prepare the caramel, add the water to a medium saucepan. Add granulated sugar to the center of the saucepan, making sure the sugar is evenly moistened. Cook over medium heat, without stirring (although you can gently swirl the pan, if necessary), until the caramel is medium amber in color, 5 to 6 minutes. Slowly add the cream, whisking constantly; be very careful, since it will bubble up and spatter. Add the butter and cook, whisking constantly, until the caramel is smooth and slightly thickened, 2 to 3 minutes more.  Whisk in the vanilla. Pour the caramel over the brownies and spread evenly.
Cool in the pan, on a rack, for about 10 minutes. Sprinkle with fleur de sel and refrigerate until the caramel is set, about 1 hour.
To serve, cut around the edge of the brownies to loosen them from the pan, then use the parchment to lift the brownies out of the pan and onto a cutting board. Use a long sharp knife to cut the brownies into squares. (Little pieces go a long way!) Store the brownies in an airtight container at room temperature for up to 3 days.
Reprinted with permission from The New Sugar and Spice, by Samantha Seneviratne, copyright © 2015, published by Ten Speed Press, an imprint of Penguin Random House.