As a college student, it is a daunting task to think of getting a place of my own and having furniture and decorative accessories to fill it. Over the past several months, some very wise people in my life have stressed the importance of being patient with purchasing furniture for my future home. They have recommended that I spend time "shopping" instead of "buying." I believe that accessories and furniture in your home should be meaningful and should be something you love. I think we often get caught up in the capitalist society that we live in that makes us want items instantaneously, and we forget about the personalization of our homes.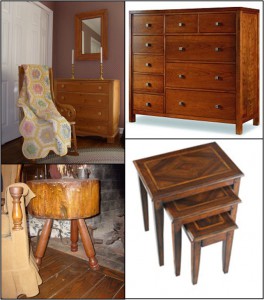 I want my home to be comfortable and feel like me. I hope each of you can create an escape within your home that makes you feel like you are right where you belong. Take time selecting pieces for your home, even if it means living with a lightly furnished home for a while.
While visiting with my relatives over the holidays, I listened to the history that had been made in the homes I visited. I was overwhelmed at the memories that are woven into the treasures of my family. The experience helped me to stop stressing about moving on with my life and made me realize that it is important to enjoy every minute of life.
A home should be a place that makes you shed a bucket of tears, massage your cheeks from smiling, and double over with laughter, all because you looked at a piece of furniture you bought 25 years ago.
Speaking of special pieces, Hooker Furniture is offering a special contest to giveaway a unique accent furniture piece called a flowered drum table. Find out how you can win here!