Have you picked, posted or pinned your favorite pieces in Hooker Furniture's best-selling Rhapsody Collection for the Casual Elegance Sweepstakes?
If not, a word of warning. With so many intriguing pieces in this vast Rhapsody furniture collection, picking just one may be tough. It was for me, so I created a short list of favorites. Here are my top ten picks (not really a short list, I know) and in no particular order, because I really couldn't decide…
1. The Rhapsody floor mirror
Leaning mirrors are always elegant, but the Rhapsody floor mirror does double duty with space for every type of jewelry storage (impressive in its capacity, too) hidden behind the mirrored door. With pediment top and grand scale, the floor mirror is quite a statement (and such a large mirrored panel will reflect (double!) any natural light in the room.)
2.The scrolled trestle-base dining table
The original inspiration for the Rhapsody Furniture Collection was a scroll carving…and it is used as a recurring theme throughout the collection; perhaps nowhere more impressively than on the scrolled trestle-base dining table shown above, decorated for a memorable holiday gathering.
3. The insignia arm chair
How about that embroidered pattern on the front and back of the insignia dining arm chair?
The dining chair reminds me of monogrammed pillows and towels, creating the perfect focal point at the end of the dining table, behind a desk, next to a bed…
4. The tufted sleigh bed.
Who wouldn't love a 'statement' bed…and the grand scale, serpentine lines and plush creamy texture of Rhapsody's tufted sleigh bed make it all that and more. It's perfectly over-the-top, especially with the classic acanthus leaf carving around the base.
5. The double bookcase, ladder & rail
How much for Downton Abbey can you get than walls of bookshelves…and Rhapsody's double bookcase with ladder & rail gives you the look. At 104 inches high, you'll need a tall wall, but it promises to look suitably grand (check out the fabulous molding, fluting, scrolling and brass rail.)
6. The scrolled nesting accent tables.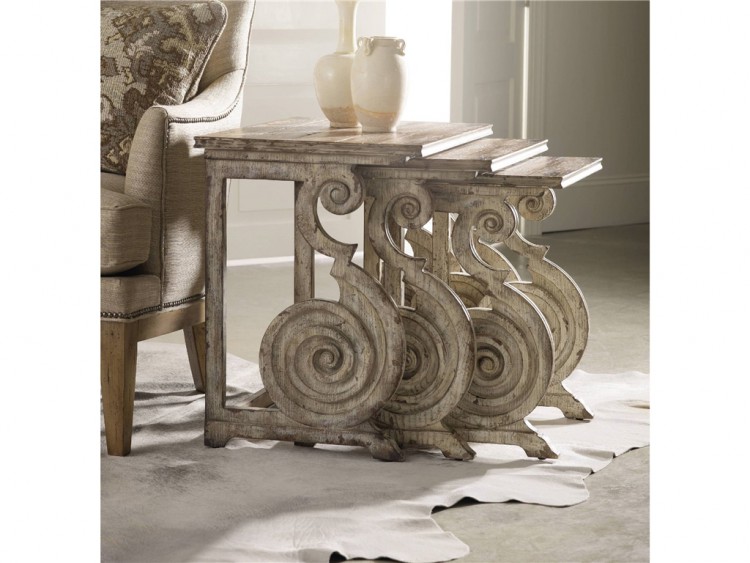 They're ever practical, but Rhapsody's scrolled nesting accent tables are also so pretty. Check out those dramatic scrolling sides that harken back to the original scroll carving inspiration for the collection.
7. Arched bunching curios
Used alone or as lined up in a collection of two or three (to create your own classical colonnade!) the arched bunching curio is pure elegance.
8. The Rhapsody urn console
With fluted-texture supports inspired by a classical urn, the urn console table has real classical pedigree. A dramatic statement, but narrow enough to work in a tight space.
9. The hand-painted door chest
The hand-painted door chest is a super versatile piece that can be used as a storage credenza, TV console or dining buffet (…that's not to mention its delicate hand-painted detail.) It's also packed with function, including 10 drawers (including two drop-front center drawers) and an adjustable/removable wine rack behind doors.
10. The square cocktail table with scroll legs
Another over-the-top (and fabulous) piece is the square cocktail table with its over-scaled scroll legs and spectacularly carved apron. And it's big–at nearly 40 inches square–it'll draw your eye to your seating area.
We hope you have lots of fun choosing your favorite Rhapsody furniture piece! And once you do, enter here for your chance to win it in our Casual Elegance Sweepstakes.