Not only is Easter a sacred holiday filled with worship services and family celebrations; many see Easter as the true beginning of spring. Spring's emerging flowers fill our surroundings with beautiful pastel colors that signal rebirth and remind us that dreary winter is on its way out.
This year, bring spring's pastels to your Easter brunch or dinner table for a refreshing way to celebrate the arrival of this colorful season.
To start, you'll need a dining table with a casual,  reclaimed-wood-look that does not need to be covered up by a tablecloth.
The perfect table to achieve this look is the Sanctuary dining table from Hooker Furniture. The finish features a creamy, cottage look and feel that is perfect to set off the pretty pastels spring color palette.
If you are hosting this year's Easter meal, your dining chairs are especially important to invite your guests to linger long after dessert is finished.
An Easter tablescape isn't complete without a hippity, hoppity Easter bunny or two! We love these little shiny white bunnies because they are simple and can easily match the color palette of your choosing.
Place a few strategically around the table for others to find. They'll be a cute surprise!
Flowers are an integral part of any tablescape, regardless of the time of year. For Easter, consider different bulb flowers such as tulips, hyacinths, irises and crocuses. Tulips and hyacinths come in a variety of colors and shades of colors.
Depending on your theme, you can choose a pastel color palette or go for a bolder look with brighter colors. The bright purples of iris and crocus bulbs will pair perfectly with either theme of your choice.
To spread the colors out over the tablescape, consider creating a deconstructed floral arrangement rather than one vase in the center of the table. A deconstructed floral arrangement simply means vases contain bouquets of only one type of flower. Achieve this look with glass vases of varying heights.
Visually, this will create a larger tablescape spread across the entire table. It will also separate the colors, making it easier for each color in your palette, as well as each flower type, to be appreciated individually.
What Easter table arrangement is complete without dyed Easter eggs? Dying eggs is a beloved Easter tradition in many households. This year, take it to the next level by marbleizing your dyed eggs. Follow this step by step guide from Delish. Be sure to blow your eggs and reserve the yolk and white for a delicious brunch frittata.
 When decorating your table for Easter brunch, remember to start with the basic essential, the perfect dining table. If you prefer a round table, check out the Sanctuary round pedestal table. With such a lovely starting point, the rest will come together beautifully.
When you're done with setting your table, don't forget to make the yummy brunch, lunch or supper! If you select a brunch meal, here's a recipe for a delicious egg frittata.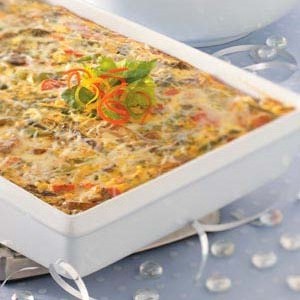 Best wishes from everyone at Hooker Furniture, Sam Moore and Bradington-Young for a meaningful and enjoyable Easter 2015!