Thanksgiving weekend was the official start of the Christmas and New Year's holiday season. For many of us, our attention now is turning to entertaining and welcoming guests. No matter the occasion, the first point of entry into your home is the front door. Whether your entry is a cozy alcove, foyer, nook or grand hallway, it's the first spot where you say your 'hellos,' and where your guests are given a foretaste into your dwelling and the experience within.
How is it possible to combine beauty and function into a welcoming space with hall and entry furniture?
I'll share some great ideas for you!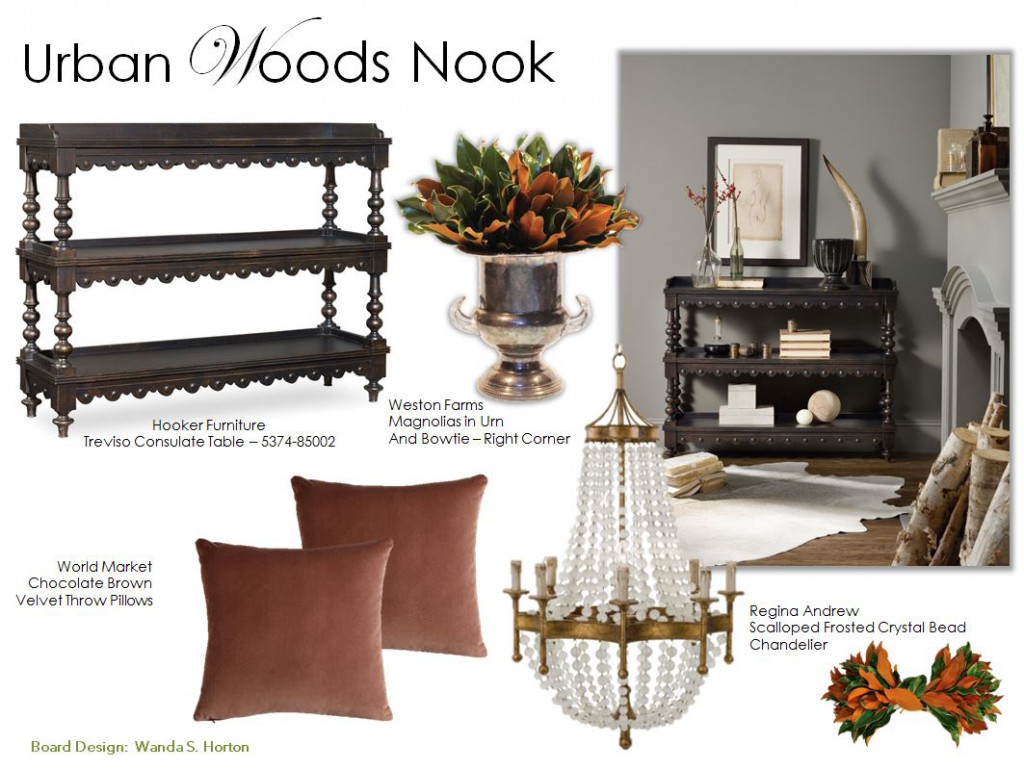 A great place to start, when you're considering the design of your entry, would be to review your home's architectural features, as well as the footprint, in order to map out a plan. In some cases, as in the area above, you may already have the benefit of a "wow" factor.  Some historical properties have fireplaces where folks were once offered a spot to warm, while waiting to enter the main rooms.  The foyer might also be the equivalent of a full-sized room.  Sometimes, there will be a nook where the space is small but the potential is large, if using a piece of hall furniture like the Treviso Consulate Table.  It brings its own sense of architectural style to the picture.  Fabulous light fixtures or textural accents add their own inviting touches. 
Place some magnolia branches in a silver urn for that special, holiday welcome.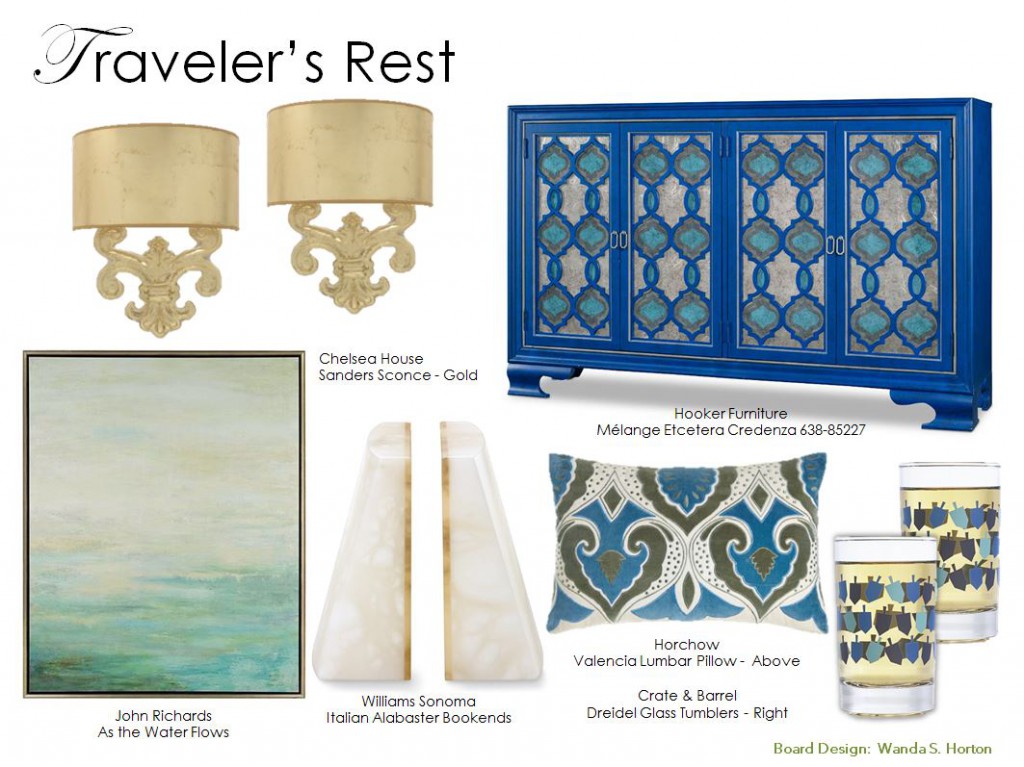 What's another important contemplation when it comes to designing any space? Take a peek into the adjacent areas.  Are there distinctive elements which might bear repeating?  For example, perhaps you love to travel and have a bit of a vagabond spirit.  The trend of bohemian chic may be your guiding compass!  The Etcetera Credenza, above, brings in a pattern play from world's away.  Add a restful painting, reminiscent of the waters from a voyage.  Use collected alabaster bookends and a complementary pillow, tossed in a nearby bench, to set the mood for rest and relaxation.  The gilded sconces help light the path for guests as they make their journey inside. 
For the holidays, you could easily set up the hall credenza for a beverage reception with everyone's favorite libations.  It's a great storage piece for overflow items for entertaining.
With so many open plans, especially in the case of urban living, I'm often asked how to create the experience of an entry space, when one doesn't actually exist.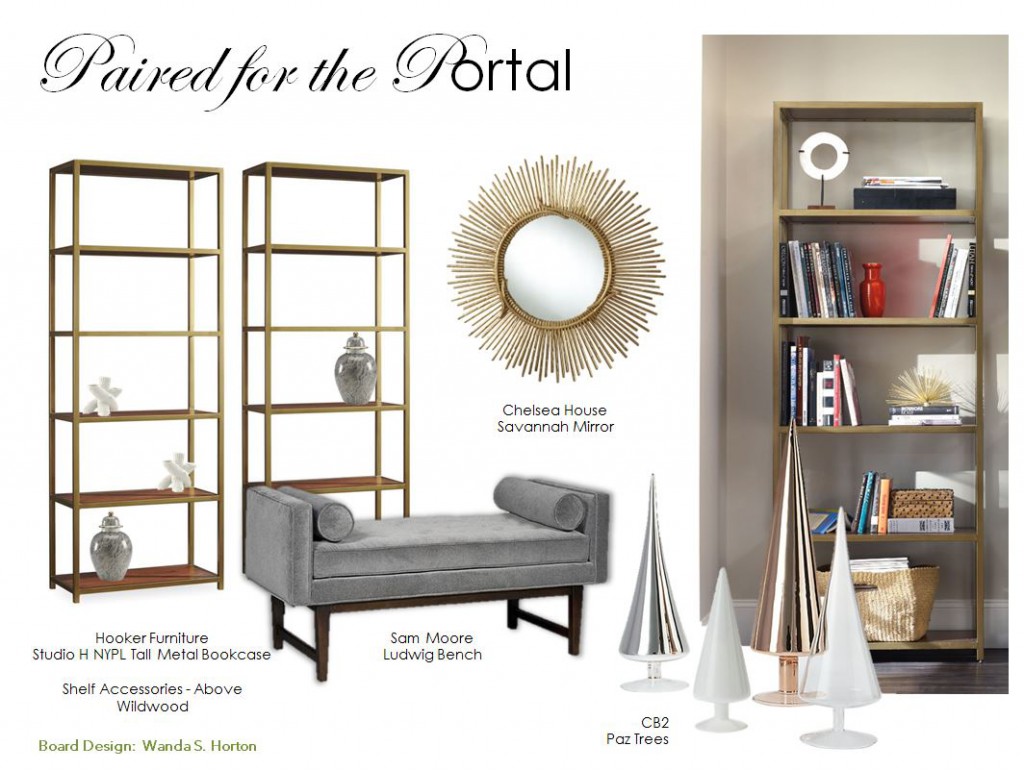 While It does take a bit of creative planning, the right entry furniture pieces can help you with a solution. Étagères, or open bookcases, are some of my favorite options to define a space without taking it over.  They can be both practical and attractive as they provide the capacity for display and storage.  They can also help divide a room while letting light flow through.  The Studio H Collection offers several fabulous choices and I paired these with the Ludwig Bench for flexible seating.  A sunburst mirror can reflect much-needed light, while it adds a sculptural effect.  I love the spherical trees as they can be kept out, all year-round.
Do you think curved staircases are swoon-worthy? I sure do!  They often rise to another level as they create a spectacular, circular foyer opening.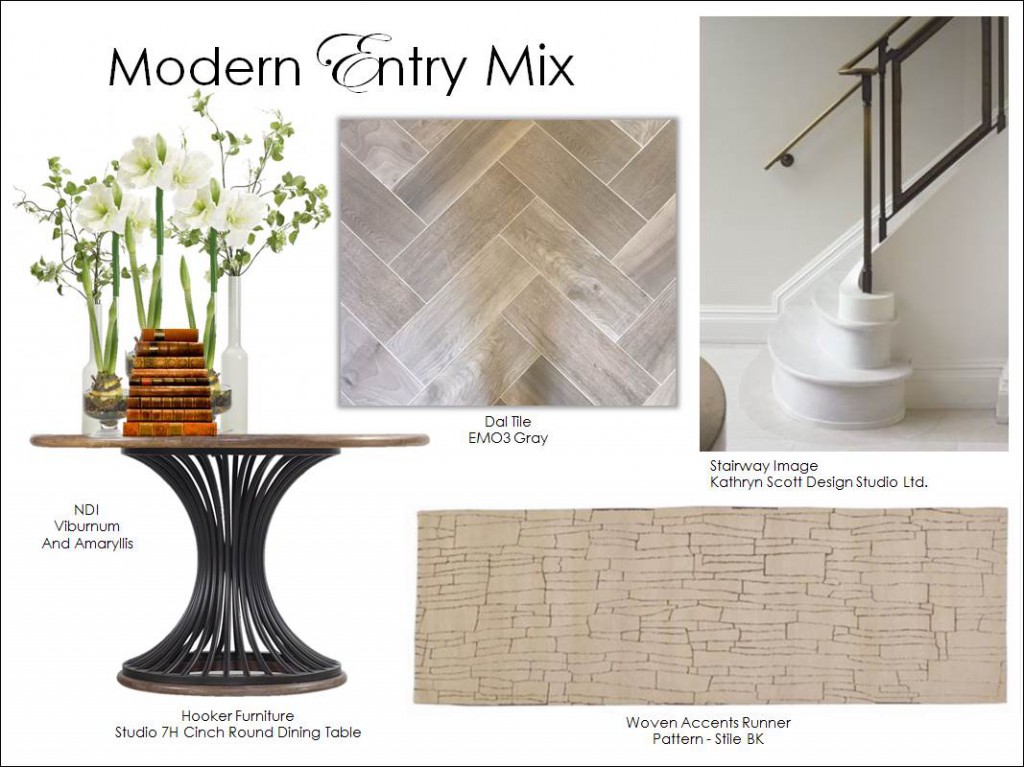 It can be a challenge to procure just the right furnishings to help create this kind of effect. While often considered to be a traditional element, a center table can easily be found in a smaller version of a dining table.  I chose the Studio 7H Cinch Table as the perfect element to fit in with the modern staircase, shown above.  The silhouette brings a dramatic arc, and it offers many styling possibilities.  I kept the holiday mix of flowers, in fresh green and white, artfully clean.  In regards to keeping things clean, I love using the wood-textured porcelain tiles in a foyer.  Messy weather just wipes away and guests are worry-free about bringing in the elements.  I do like using a textured runner on stairways, to prevent slips and falls.  The right pattern keeps the modern flow intact.
Of course, there are many different design styles, and I would be remiss if I didn't give a nod to those who enjoy a classic design with a twist of tradition.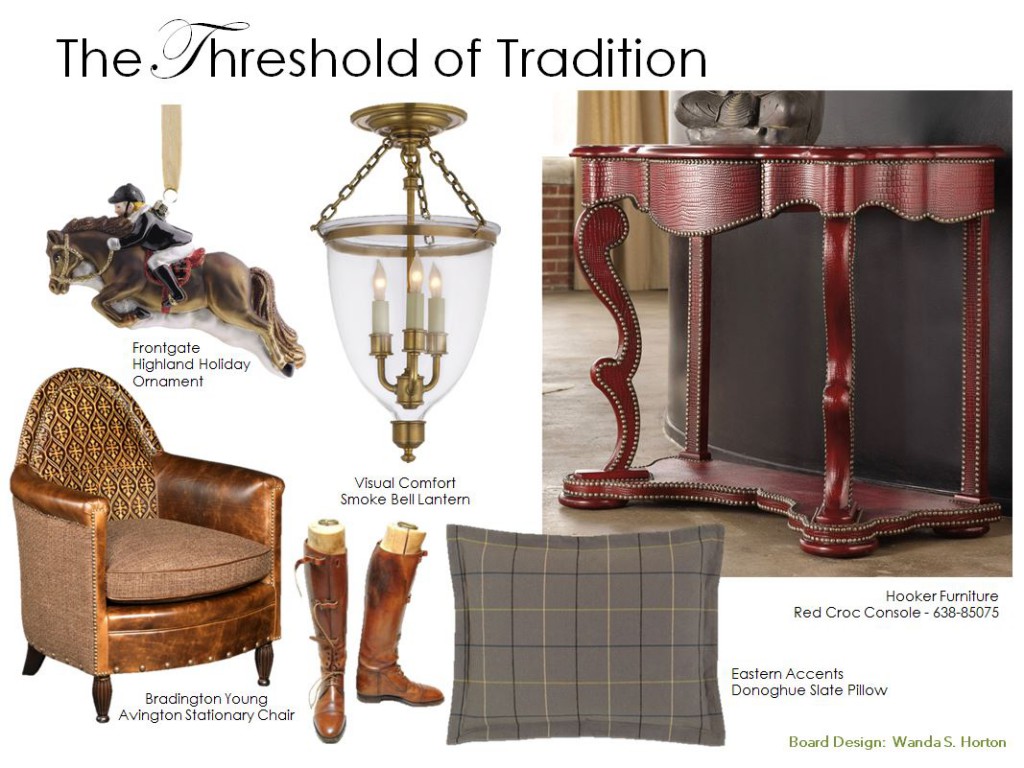 Burnished, patterned leathers offer a visually tactile experience as they bring a unique approach to pieces from the past. The Avington Chair and the Red Croc Console, with their embossed leather finishes and curved edges with nailhead accents, harken to a gentle ride in the meadow or along a river trail.  Add a touch of tattersall plaid, the candlelight of a bell lantern, include some shiny, glass ornaments and one can be transported straight on to the merriment of the holidays!
No matter the size or degree of grandeur of your entrance, it's all about making your visitors feel welcomed with care and ease. Providing attention to the details is like extending a warm hug to all who enter. 
Happy greetings!