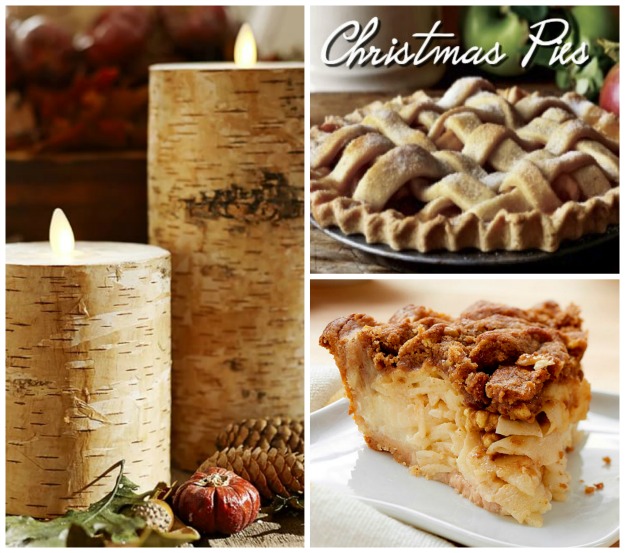 Pie Time for the Holidays
Every holiday, especially Christmas time, was pie time at our house. Apple, mincemeat, lemon, cherry. My grandmother would be pleased to see the pie renaissance going on today. Most folks are not satisfied with just one pie offered at the dessert buffet. Here are some popular pies to bring joy to the heart. And lovely ways to serve them for a mouth-watering holiday to remember.
Apple Pies Galore
"As American as apple pie–my Nebraska grandmother was certainly a proponent. Her apple pies were legendary. Once I recall getting up to go to school and finding apple pies on every surface I could see. She had been up all night baking pies for a church supper — 50 of them! Her apple pie contained tiny cinnamon candies–making them delightfully pink.
This recipe for Double Apple Pie is a wonderful version of the American classic.
Both mouthwatering and a crowd pleaser, this Apple Cranberry Slab Pie recipe is a nice spin on the American classic.
Inspired by the furnishings in Dublin, Ireland's Shelbourne House Hotel, Hooker Furniture's Shelbourne Pedestal Dining Table  will host an array of pies.
There seems to be no end to how cooks interpret the classic apple pie. What better spot to feature such a yummy display than this table, which reminds me of the one in my grandmother's own Victorian house.
Decorate the table with birch wax pillar candles from Pottery Barn, and serve slices of pie on vintage red house dessert plates from Williams-Sonoma.
For the Young at Heart
Red Hot Apple Pie in a Mug will delight the young in the family, and is a super easy recipe. It is a takeoff on my grandmother's cinnamony speciality. Picture youngsters of all ages enjoying this treat.
The ideal setting is atop the Studio 7H Finder's Keeper's Storage Trunk Table.
For mugs for all, Emma Bridgewater's Christmas Collection.
Oh, Those Delicious Cream Pies
These recipes for Butterscotch and Boston Cream Pies from Country Living are delectable choices. Guests will want to sample more than one, for sure.
The rich finish of the Pallisade Server features walnut and sycamore veneers. Contemporary detailing brings the server into "now." there's amble storage space and drawers for such things as traditional pie forks.
Pie Presents
In addition to serving pies to your guests, they can be an appreciated and personal gift idea. Whether homemade or purchased, this lovely Amish pie basket is the perfect way to transport your pie gift.
MERRY, MERRY to all, and to all, a good pie!