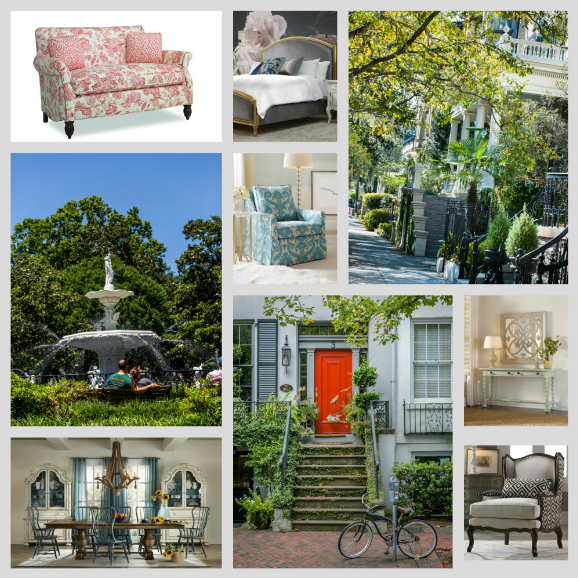 This Spring, cold, minimalist interiors are gone with the wind.
Arriving on the design scene like a breath of fresh air is Southern Comfort style, a look that captures the warmth and spirit of cities like Savannah, where lovely parks, stately architecture and a fondness for color in all the right places creates an atmosphere of relaxed beauty and graceful living that every home deserves.
 Ready to bring a little Southern Comfort home? Here's how…
The carved decorative wood overlay of the Sunset Point Square Mirror conjures images of classic wrought iron gates found through the South.
The Sunset Point two-piece entertainment center calls to mind architectural structures found in southern gardens with its trellis-inspired door fronts. The Sunset Point round cocktail table and the Sunset Point end table feature gracefully-turned legs that resonate with genteel charm.
 The timing for infusing southern comfort style into your home could not be better, because now through May 2, 2016, all Hooker Furniture and Sam Moore Furniture and Bradington-Young Furniture is on sale nationwide during a Spring Savings Event.. You can find participating retailers here.
Inspired by farm-style antiques, the Chatelet Buffet adds a touch of relaxed, yet elegant French style.
Make your room bloom with the Kudrow Settee. Upholstered in a lovely two-tone floral print, it breaks up neutral settings in an on-trend way.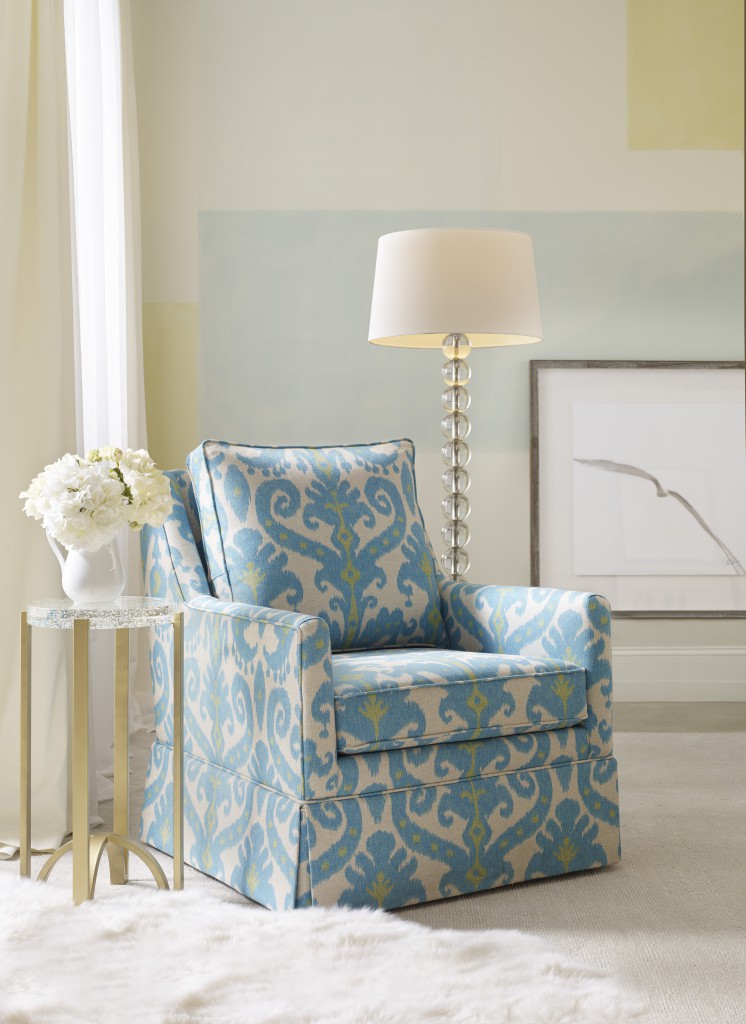 Upholstered in a pretty aqua, lime and white print, the Gideon Swivel Chair adds a dash of global glam in a soft southern way.
Southern women never underestimate the power of pretty. Nor does designer Cynthia Rowley, whose Antoinette Gilded Upholstered Bed is decked out in a beaded, gold-leafed velvet bed frame with a removable ribbon pediment headboard top.
Sheath the Kelsea Wing Chair in a modern geometric print like this for a modern spin on a classic French Bergere.
With clean lines and a simple yet striking silhouette, the Kiran Lounger and ottoman redefine comfort in a modern, chic way.
 The Sanctuary rectangle trestle table dining table  is a mix of Southern influences with its farm-style silhouette and antique hickory wood finish that reveals the character of the wood and imparts the sense of a beloved family heirloom that's aged beautifully over time. Sanctuary Tall Spindle arm chairs and Sanctuary Tall Spindle side chairs are also heirloom handsome in a distressed blue painted finish.
Sweet tea and southern entertaining go hand-in hand. Serve this cake and you'll charm guests in true southern style.
Sweet Tea Cake with Lemonade Frosting
from
"A Time to Celebrate–Let Us Keep the Feast"
by James T. Farmer III
Serves 16 to 20
 "I love sweet tea. I love lemonade. I love cake. I love frosting. Need I elaborate? I give this fun Southern classic-in-the-making a twist by using my Earl Grey sweet tea flavored with rosemary or lemon thyme."–James T. Farmer III
 1 1/2 cups boiling water
3 family-size tea bags plus 1 bag Earl Grey—you'll use a good cup of tea in the recipe
1 small sprig rosemary or 2 stems lemon thyme
1 cup (2 sticks) butter, softened
2 cups granulated sugar
1/2 cup firmly packed light brown sugar
 5 large eggs, room temperature
3 1/2 cups cake flour
2 teaspoons baking powder
3/4 teaspoon salt
1/4 teaspoon baking soda
1 cup applesauce
Lemonade Frosting (recipe follows)
 Preheat your oven to 350 degrees F. Grease a 9 x 13-inch pan with shortening and dust with flour.
 In a heat-proof glass bowl, pour the boiling water over the tea bags and sprigs of herbs. Cover with plastic wrap and steep for 10 to 12 minutes. Lift the tea bags and herbs from the liquid. To get all the tea from the bags, press them against the side of the bowl using the back of a spoon. Discard the tea bags and herbs and allow the tea to cool for 20 minutes.
 In a separate large bowl, beat the butter at medium speed with an electric mixer until smooth and creamy.
Gradually add the granulated and brown sugars, beating until the mixture is light and fluffy. Add the eggs 1 at a time, beating after each addition just until blended.
 In a medium mixing bowl, whisk together the cake flour, baking powder, salt, and baking soda.
Add the flour mixture to the butter mixture in thirds, alternating with 1/2 cup tea, beginning and ending with flour mixture. Beat the batter at low speed just until blended after each addition. (Discard any remaining tea, or sweeten and enjoy a glass!) Add the applesauce and beat the batter just until blended. Pour the batter into the prepared pan.
Bake for 35 to 40 minutes, or until a wooden pick inserted into the center comes out clean. Cool completely on a wire rack for about 20 minutes.
Spread the frosting on the cake.
 Lemonade Frosting
 1 (8-ounce) package cream cheese, softened
1/4 cup (1/2 stick) butter, softened
6 cups powdered sugar
1 tablespoon lemon zest
3 tablespoons freshly squeeze lemon juice
 In a large bowl, beat the cream cheese and butter at medium speed with an electric mixer until smooth and creamy. Gradually add the powdered sugar, 1 cup at a time, beating at low speed until well blended after each addition. Slowly mix in the lemon zest and lemon juice just until blended. Increase your mixing speed to high, and beat the frosting until light and fluffy.
 Farmer's Note: Bourbon, vodka or limoncello add an adult kick to the frosting. A hearty splash (2 to 4 tablespoons) is a gracious plenty.
 Recipe courtesy of "A Time To Celebrate–Let Us Keep the Feast" by James T. Farmer III, reprinted by permission of Gibbs Smith.