The Hill Country Story-Part 2 of a 3-Part Series
As a native Californian, I've always appreciated the unique beauty of the golden state. So, it comes as no surprise to me that Northern California's Napa Valley is one of the inspirations for Hooker Furniture's new Hill Country Collection. 
The verdant beauty of the landscape and its picturesque wineries make it a dream destination, and one perfectly suited for inspiring a casual American lifestyle aesthetic.
Touring Wine Country
Whether you're a wine connoisseur or not, there's just something about a landscape of grapevines that stirs the soul. A dream destination for wine aficionados and foodies, Napa Valley is one of the world's premier viticultural regions. It boasts 400+ wineries in a compact area that's just 30 miles long and five miles wide. The region is divided into six towns: Calistoga, St. Helena, Yountville, Oakville & Rutherford, Napa and American Canyon.
Each town offers its own distinctive charm. American Canyon is a budget-friendly area packed with family-friendly hotels and activities. Drive 15 minutes north to Napa, and you'll find a lively downtown area with dozens of wine bars and a thriving restaurant scene. In the heart of Napa Valley, Yountville offers a 3-star Michelin-rated restaurant (The French Laundry). Head over to Cabernet country in Oakville & Rutherford, and you'll see the legendary Robert Mondavi Winery. In St. Helena, you'll find big experiences with the charm of a small town. And if it's relaxation you're after, set your sights on Calistoga, where they have spas, mineral pools and healing mud baths that have been attracting visitors for over 100 years.
Not sure where to start? Here's a guide organized by interest—for the Outdoors Enthusiast, the Foodie, the Romantic, and the Urban Adventurer. 
For gourmet dining at home, there's the Bandera Dining Table, shown here with the Comfort Upholstered Arm Chairs, Side Chairs and the Ozark Bed Bench.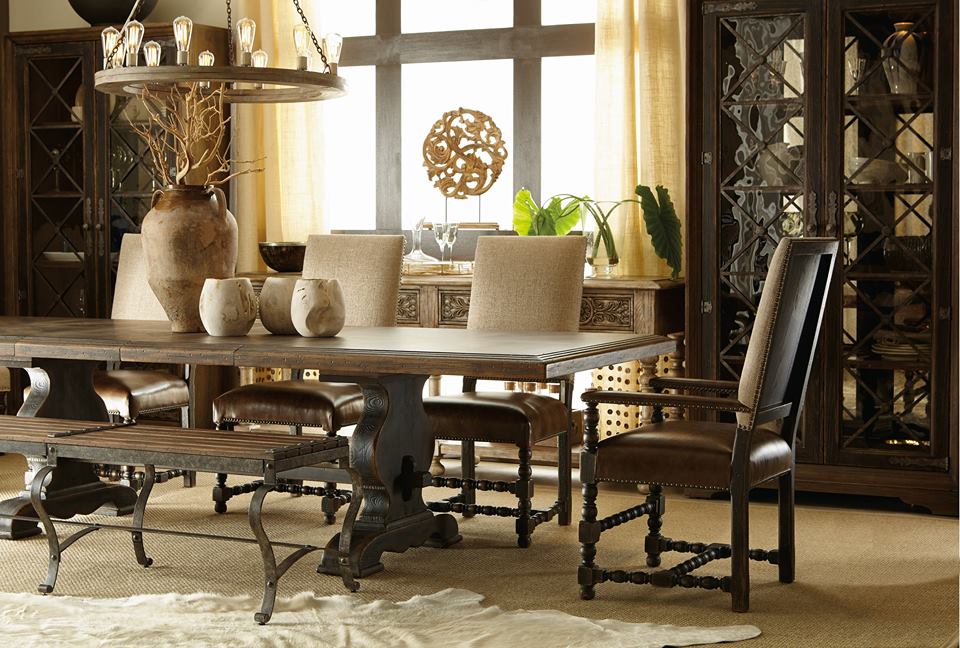 The Sattler Display Cabinet wears the collection's timeworn saddle brown finish paired with an anthracite black finish to create a two-tone look inspired by natural sandstone with characteristic aged-black highlights.
The combination of Spanish and European influences in this area combined to create the stunning architecture found here, as well as the inspired culture that we now know as Wine Country.
Just as great wines are even better shared, so is the beauty of the California's Wine Country region. These furnishings from Hooker's Hill Country Collection make it easy to bring the beauty and character of Napa Valley to homes anywhere in the world.