This is the story of how a chair became a family treasure, then found its way home while inspiring new friendships along the way.
The classic chair with a fan-shaped back was part of Sarah's family's life for 60 years.
It first belonged to her Great Uncle Walter in Connecticut. After his death, the chair "traveled around," to her mother's home, and more recently resided in her own sewing room.
One day, curious about the chair's origins, she turned it upside down and found something intriguing: A deck label with signatures of every craftsperson who had helped build the chair, along with the name, "Sam Moore Furniture Original and Custom Made," of Bedford, Va.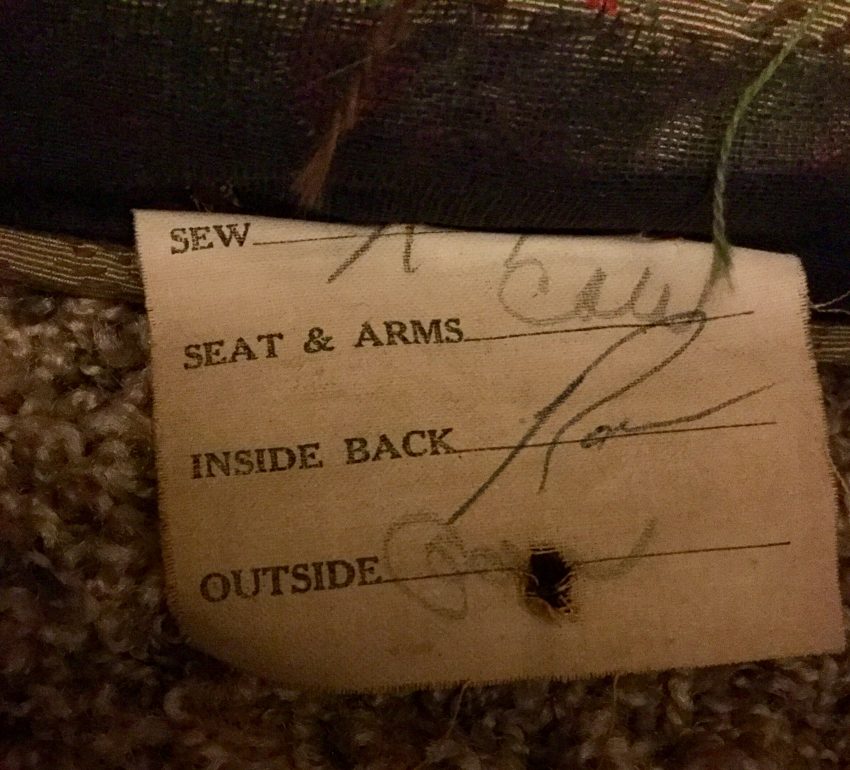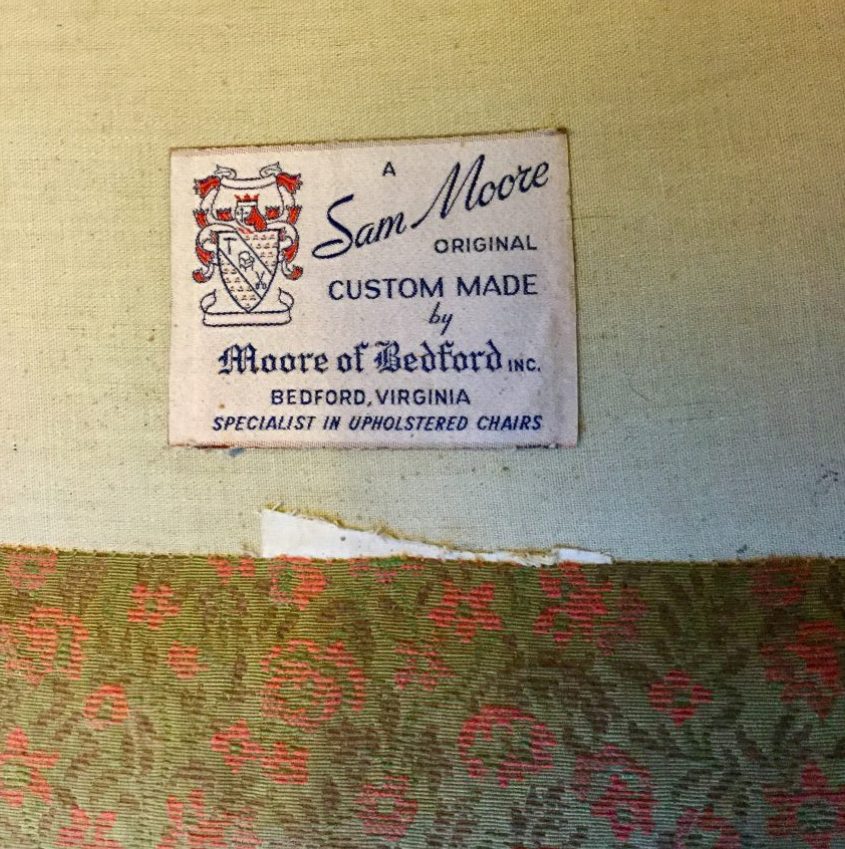 "Finding the set of original craftsmen's signatures on my uncle's chair started my journey to Sam Moore," said Sarah, who lives in Fauquier County, Va. "Once I read and viewed the Sam Moore story on the website, and saw that they were still proudly making their furniture in America, I decided to reach out." Sarah said she was impressed at Sam Moore's history of entrepreneurship, custom craftsmanship and citizenship.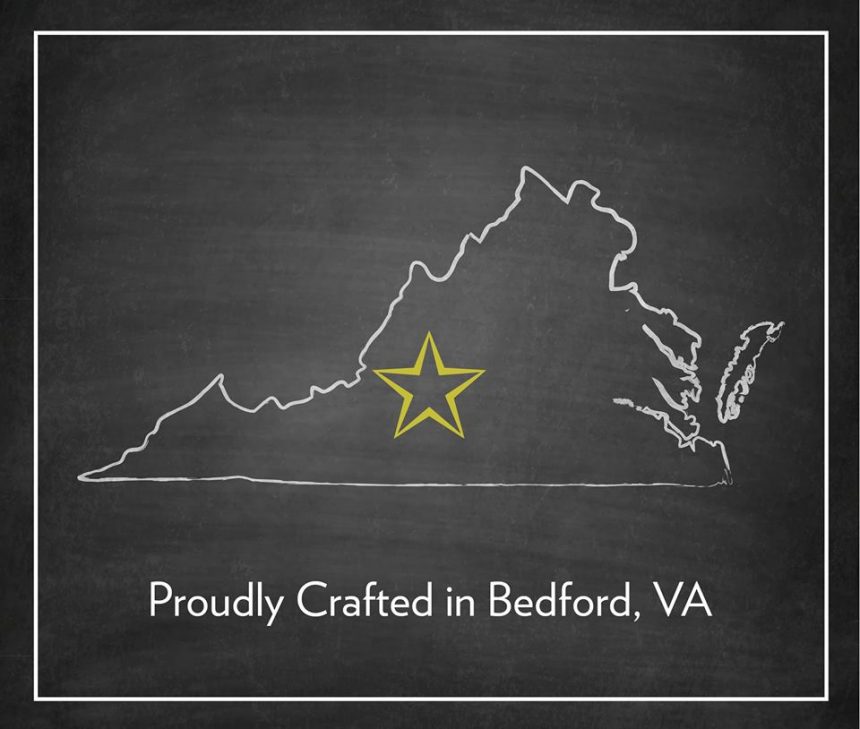 When she reached out to the company, she connected with Phil Garrett at Sam Moore's parent company, Hooker Furniture, along with Sam Moore's Virginia sales rep David Moldenhauer, and even executive Matt Huber of Belfort Furniture, which is located near Sarah's home. They all met up at Belfort, where Sarah brought the vintage chair and was able to admire a display of new Sam Moore chairs as well.
 Everyone was fascinated by the chair, which Sam Moore believes dates to the early 50s. "The upholstery is quite worn in places, and general wear and tear and dirt have taken their toll over the decades," Sara said, 'but I have always loved its shape and design, and the chair is still quite comfortable."
Sarah decided to present the chair as a gift to Sam Moore, so they could display it at the Bedford, Va. headquarters and the High Point, N.C. showroom at High Point Market.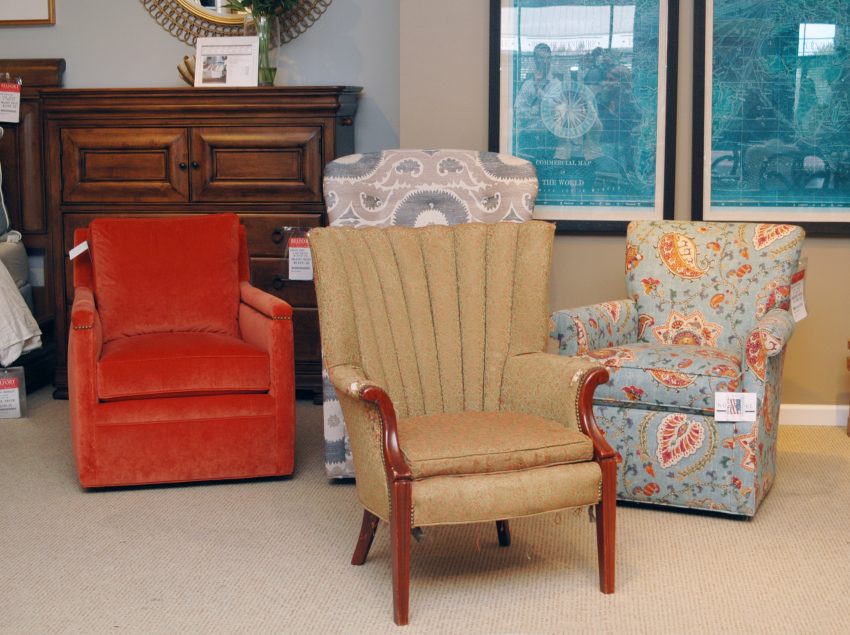 Belfort and Sam Moore joined forces to offer Sarah the opportunity to pick out a chair silhouette and fabric, and recently completed producing a new chair for her that was just delivered to her home by Belfort. "The new chair will be a stylish and comfortable addition to our family room, as we not only enjoy its workmanship, but also appreciate Sam Moore's individual craftsmen and craftswomen, past and present," Sarah said.
She added that the entire experience has been quite meaningful. "Meeting with Phil and David at Belfort was more moving than I ever imagined," she said. "I'm happy to have made a connection to a Virgina company that takes such pride in its manufacturing history.
"Friends and family are certain to comment on this lovely chair, and I will say, "Have a seat and let me tell you a story."