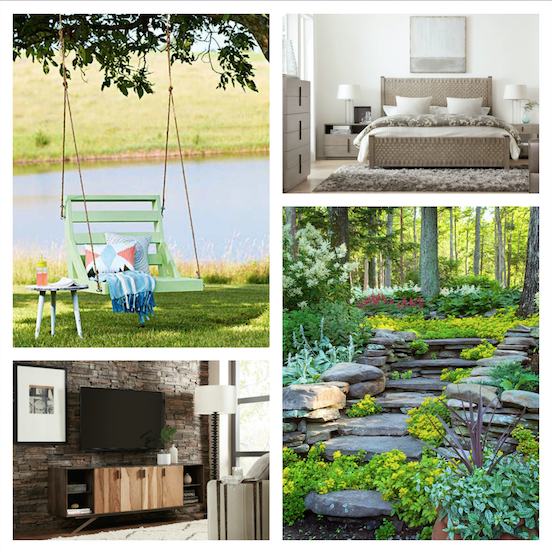 Take a break. Rejuvenate. Photos: Better Homes & Gardens, Hooker Furniture.
Summer is  here! Time to kick back, relax and make like vacation will never end. Sound good to you? Here's how to create a restful summer retreat at the place you already call home.
It's easy to nap like you mean it with the Lincoln Power Sofa and recliner  Each of these ultra comfy seats (upholstered in soft, supple leather) have power headrests, power lumbar support and power recline. They also deliver smart phone bluetooth capability, making it uber-easy to turn on tunes or order out for pizza.
With three limestone surfaces that keep beverages, snacks and books within arm's reach, the Melange Kiera Spot Table is couch potato perfect for summer slumber.
The Shogun Entertainment Center keeps video, audio and gaming gear organized and in one place, so you can relax more this summer, and tidy up less. 
While the hours away reading by a window or taking in the view on the Belgian-inspired  Boheme Madera Bed Bench, a portable piece that multi-functions as seating or a place to hold bags and bits of stuff lugged in.
With a nod to the seaside towns after which it's named, the Miramar Carmel Lucio Woven Panel Bed is awash with coastal cues from its sand-hued palette and woven raffia headboard and footboard; to its sandblasted oak frame that resembles aged wood found along the beach.
We all know that walking delivers lots of health benefits, especially when it comes to stress. So take a leisurely summer stroll around your neighborhood or through a nearby park.
Channel your inner child with this stylish DIY hanging swing chair. It makes hanging out beneath a shade tree the haute thing to do. 
During summer, salads are the perfect go-to thing. What makes this recipe -from the James Beard award-winning editors at Food52- perfect-plus is how it transforms a classic side into a tasty entree by mixing garden-fresh ingredients with seasonings in a new way.
Roasted Potato Salad with Mustard-Walnut Vinaigrette from "Mighty Salads"
(Roasted roots + garlicky, mustardy vinaigrette + nuts + herbs + egg topper)
by the editors of Food 52
Serves 6 to 8 | From Shannon Hulley
This potato salad celebrates its namesake ingredient, the humble and excellent spud, instead of allowing it to drown in a bowlful of gloppy white dressing. Roasted until browned, the potatoes themselves are the stars, and after a light mash, get to bathe in a mustardy vinaigrette. Basil adds a surprising freshness, toasted walnuts play up the potatoes' roasted side, and all of the flavors together will speak to you even at room temperature. So without the soft-boiled egg on top, this salad is good for potlucks, picnics, and backyard parties. Celebrate accordingly. 
4 pounds (1.8kg) mixed marble potatoes or other small potatoes
Extra-virgin olive oil, for drizzling
Sea salt and freshly ground black pepper
1 bunch scallions, white and green parts, thinly sliced 
6 to 8 eggs
1 cup (100g) walnuts, toasted and coarsely chopped
Leaves from 1 bunch basil, torn
 Mustard-Walnut Vinaigrette
2 garlic cloves
Sea salt
2 tablespoons freshly squeezed lemon juice
1 tablespoon red wine vinegar
1 tablespoon whole-grain mustard
1 tablespoon Dijon mustard
1⁄4 cup (60ml) extra-virgin olive oil
2 tablespoons walnut oil
Freshly ground black pepper
Heat the oven to 425°F (220°C). Arrange the potatoes in a single layer on two parchment-lined, rimmed baking sheets, drizzle with olive oil, and toss to evenly coat. Season with salt and pepper. Roast, shaking the sheets occasionally, until tender and brown, 40 to 45 minutes.
To make the vinaigrette, place the garlic on a cutting board, sprinkle with a couple of generous pinches of salt, and finely chop and smash it into a paste with the side of a chef's knife. Whisk together the garlic paste, lemon juice, vinegar, and both mustards until smooth. Gradually whisk in the olive and walnut oils until emulsified. Taste and adjust the salt and pepper.
Transfer the potatoes to a large bowl. Toss in the scallions and the vinaigrette. Using the back of a mixing spoon, gently smash some of the potatoes just enough to break the skins. Be careful not to make mashed potatoes. Allow the dressed potatoes to sit at room temperature for 45 to 60 minutes. 
About 15 minutes before serving, bring a pot of water to a boil. Lower the eggs, a few at a time, into the water and boil for 6 minutes. Remove the eggs with a slotted spoon, plunge them into an ice bath until cool enough to handle, and then peel them.
Just before serving, stir in the walnuts and basil. Arrange the salad on plates. Top each serving with a soft-boiled egg and sprinkle with salt and pepper.
Credit: Reprinted with permission from  Food52 "Mighty Salads: 60 New Ways to Turn Salad Into Dinner" by the Editors of Food52, copyright © 2017. Published by Ten Speed Press, an imprint of Penguin Random House LLC.