When J. Clyde Hooker, the beloved and respected retired leader of Hooker Furniture, died last month, he left behind numerous trophies, awards and honors. They ranged from a Bronze Star in World War II to The Pillar of the Industry Award to a place in the Furniture Hall of Fame to a key to the City of Martinsville, Va. Other tangible reminders of Clyde's contributions include new or expanded buildings in Martinsville to benefit the community, buildings like the YMCA and the hospital and the SPCA and Piedmont Arts Assn. offices. Too many to count are the young people who are now contributing to society because they were educated through a scholarship Clyde helped establish through the Hooker Educational Foundation, VMI or High Point University.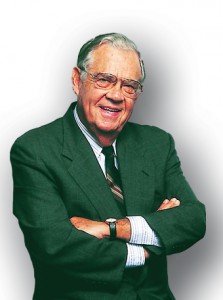 In addition to these tangible contributions, Clyde's intangible legacy is just as great. Clyde's entire life was a role model of how to make a difference in the lives of others. No matter what lofty honors he received, what mattered most to him was his impact on the lives of ordinary people.
Do you want to build a legacy in your personal, professional and community life? Here are some lessons from the life of a great role model in legacy-building, Clyde Hooker:
1. Treat all people with respect. "He treated the custodian in one of his plants no different than the president of the company," said Bill Child, chairman of Salt Lake City-based Top 100 retailer R.C. Willey.
2. Be who you are all the time. Clyde lived the definition of integrity: consistency at all times, in all circumstances, with all people. "Clyde was always the same the entire time I knew him; he never changed," said John Bassett III, chairman of Vaughn-Bassett and Clyde's cousin.
3. Humility triumphs over self-promotion. As successful as Clyde was in his business career, he never became arrogant. Boasting was completely against his nature. The one thing he would not tolerate was an employee who tried to take all the credit for something, and the only thing that made him uncomfortable was praise.
4. There's no substitute for courtesy and diplomacy. "First and foremost, Clyde was a gentleman," said Richard Moore, vice president-furniture, for Dillards department store. Added Doug Brackett, the retired executive vice president of the American Furniture Manufacturers Assn. (now AHFA), "He had a way of getting his point across strongly without offending anyone."  Tom Word, an attorney in Richmond, Va. who is writing a book on the heroes of Virginia. put it this way, "He had no ego and no enemies."
5. Make people feel special and that their work is important. One of Clyde's favorite causes was the SPCA. He was an encourager to Leslie Hervey, executive director of the Martinsville SPCA."His gift was making everybody feel like they were the most important person in the world," Hervey told the Martinsville Bulletin. "He made me believe the SPCA and taking care of animals was the most noble thing I can do with my life."
6. There are no star players, only star teams. Clyde believed that if anyone on the team hogged the ball or the spotlight or received most of the praise, the performance and morale of the entire organization would suffer. "Clyde was the strongest team builder I have ever observed, and he built the most admired leadership team in the furniture industry," said Word.
7. Keeping people happy really is the best organizational strategy. Clyde always said that happy people are more productive and motivated. A happy, supportive atmosphere gives people the freedom to take strategic risks that lead to innovation in business, ministry or service."Clyde had a way of making his employees happy to get up in the morning and come to work," said Bassett. Added Child, "There was no way you could not have a good day when you were around Clyde."
We welcome your comments. In fact, let us know if you have any personal stories of when Clyde's legacy-building life touched yours.