Oh, there are the wonderful aromas that live in our memories year after year–roasting turkeys, fragrant trees, homemade breads and pies and cookies fresh from the oven. But to keep your home beautifully scented every moment of this most precious time of year, why not create your very own potpourri? Here is my favorite recipe, one that was shared with me by herb specialist Emelie Tolley.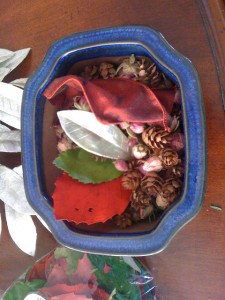 Gather the ingredients and create a holiday experience out of making your potpourri. It's great for gifts, too. If you have a craft or hobby cabinet, it's the perfect place to store your components.  This potpourri uses springs of fresh or dried rosemary (gilded on the edges if you like) for a festive touch. You can also add gold beads if you like.
Christmas Potpourri Recipe
• One cup of mixed dried rose buds and bay leaves, combined
• Half of a cup each of baby pine cones and crushed cinnamon sticks
• One and a half teaspoons of botanical fiber mix
• Four drops of rosemary oil
• Two drops of rose oil
• One drop of cinnamon oil
• Sprigs of fresh rosemary (optional)
Combine the oils with the botanical fiber mix. Mix all ingredients together. Refresh with a few drops of oil from time to time.
Craft stores and online sources will help you find the ingredients.
Display your potpourri on a hall or entry table in a wide, open bowl and garnish with swirls of gold ribbon. You might tie little bunches of gilded rosemary with ribbon and scatter around the bowl. Or, place on a buffet or mantel or even a desk to make your holiday home as fresh as a winter wonderland. (Be sure to keep the potpourri away from small children and pets.)
When these delightful scents greet your family and guests, they'll know the holiday festivities have begun. Little fabric bags of the potpourri gathered on a tray make a wonderful display and guests can take one away as a memory of a lovely time. Tuck one under a pillow for that overnight guest. And if you need a house-warming gift, take along your very own holiday scent to share with friends and family.