The sight of rich red and green colors alone can get us in the holiday spirit! Silver and gold are a great holiday color combo too… reflecting the glamour and pageantry of this special season.
But if you're in the mood for something less expected, consider these trend-forward holiday hues:
Plum & Gold
There's just something about this glamorous duo that makes it a natural for the holidays. From the purple family, plum is hitting its stride in fashion and expected to be popular for home accents in 2011. Besides gold, plum looks magical paired with colors such as amethyst and purple reds. Harsher color contrasts spoil its subtle beauty.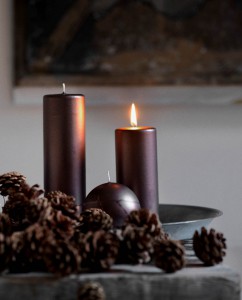 HOLIDAY DECORATING IDEAS:
place sprigs of red holly branches around the base of a plum-colored pillar candle
tie a gold ribbon around plum-colored cloth napkins
gather plum, burgundy and amethyst-colored balls in a bowl for a centerpiece
wrap gifts with gold-colored paper and plum-colored ribbon, or vice versa
Baby Blue, Silver and White
Light blue is a cool, chic color, especially when paired with silver or white. Together, these icy colors feel poised, reassuring and spiritual. With its transparent, ethereal qualities, this stylish trio looks best in glossy, satiny or powdery textures.
HOLIDAY DECORATING IDEAS:
instead of using wrapping paper, tie a blue ribbon around a simple white box
spray fake snow on a pine wreath; decorate with white, silver and blue balls
surround a silver or baby blue pillar candle with white branches
Light and dark neutrals
Organic colors aren't new in fashion or in home, but in extreme light and dark combinations, they offer a sophisticated alternative to tried-and-true holiday hues! Inspired by a winter landscape, a mix of winter whites, light gray, charcoal, peppercorn and deep taupe feel serene and contemporary. Sophisticated neutrals are being seen in the most trend-forward furniture today as well, such as the Melange collection by Hooker Furniture.
HOLIDAY DECORATING IDEAS:
use winter branches, or a trio of iron table lanterns on a white table cloth
create a wreath from simple winter branches, pine cones and cinnamon sticks
use linen, charcoal or taupe-colored napkins with neutral-colored dinner plates.
For more holiday decorating ideas, visit the Hooker Furniture Experience Your Home blog.