Remember when Kermit used to sing, "It's not easy being green?"
Well, maybe 20 years ago it wasn't, but when it comes to today's home furnishings, there are "green" solutions everywhere!
Eco-friendly options were a hot trend during the Spring 2011 home furnishings market in High Point, NC. The "renew, reuse, and recycle" mantra of environmentalists and designers is being seen at all levels of furniture production. (In case you didn't know: reusing or recycling items eliminates waste, preserves natural resources and often supports local economy.)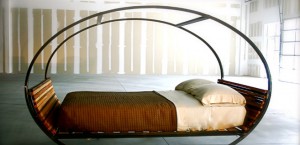 It's not that there haven't been eco-friendly options before, but the sheer number of those options has increased dramatically. I saw lots of pieces made from recycled and natural materials, such as glass, paper, plastic, rubber, and lots of reclaimed wood — beds, coffee tables, console tables, wine racks, storage trunks and more. The best part of all? These pieces are so beautiful!
For instance, Broyhill offered a casual and simple, totally eco-friendly sofa. It uses repurposed cotton fabric, the frame is constructed from domestic timber obtained from certified sustainable sources, no-sag springs are made from 100 percent recycled steel; seat cushions contain soy-based foam; pillows and back cushions are made from recycled plastics; and wood legs are made from certified wood stained with water-based finishes. Cool, right?
One of my faves, though, is this rocking bed by Shiner International made with reclaimed wood and metal. I don't exactly have the room for this in my house, but I WANT it anyway!
A "Turrow" chair offered by American Leather is uber-chic and comes in a variety of gorgeous hues made from all-natural vegetable dyes. No minerals or metals are used in the tanning process.
There are so many cool things to see that it's difficult to just pick a few, but here are some other eco-friendly products on the market now:
Colorful magazine and newspaper pages are being turned into decorative picture and mirror frames, handbags, bowls and knick-knacks.
Plastic is being recycled into chairs, tables, lamp bases and other functional items.
Glass pieces are being turned into kitchen and bath counter top material, and beautiful accessories.
Another way of going green is to utilize sustainable business practices in running your company and producing and distributing furniture. Hooker Furniture, Bradington-Young and Sam Moore have a strong, corporate-wide environmental stewardship program. The companies are part of a group of furniture manufacturers that have EFEC ("Enhancing Furniture's Environmental Culture") registration, which manages the amount of energy and resources a manufacturer uses. Also, the companies reached an important milestone recently by recycling a grand total of over 1.1 million pounds of paper, cardboard and plastic. Wow!
Are eco-friendly options sometimes more expensive? Yes. The fact is, sometimes it costs more to produce items in an environmentally safe way. Think of it this way: it's really easy to eat fast food that has been mass-produced, but we can agree that that isn't exactly good for our bodies. It may cost more to eat better, but the long-term effects are worth it. The same principle applies to home furnishings and our environment. Just remember that you don't have to sacrifice style to be good to the world around you!