As Halloween nears, there's magic in the air. While some people ponder things that go bump in the night, it takes more than a ghost here or a goblin there to give us furniture design lovers a thrill. Decor that intrigues, allures and delivers more than meets the eye is what makes our imagination take flight. That's what makes this…bewitching style.
The 12-inch deep Sanctuary 4-Door Drawer Thin Console does the impossible by transforming slivers of space in hallways and foyers into spacious display spots.
With a modernist masked sculpture that creates texture in dramatic fashion, designer Jacques Grange gives this small London powder room a big dose of gallery glam.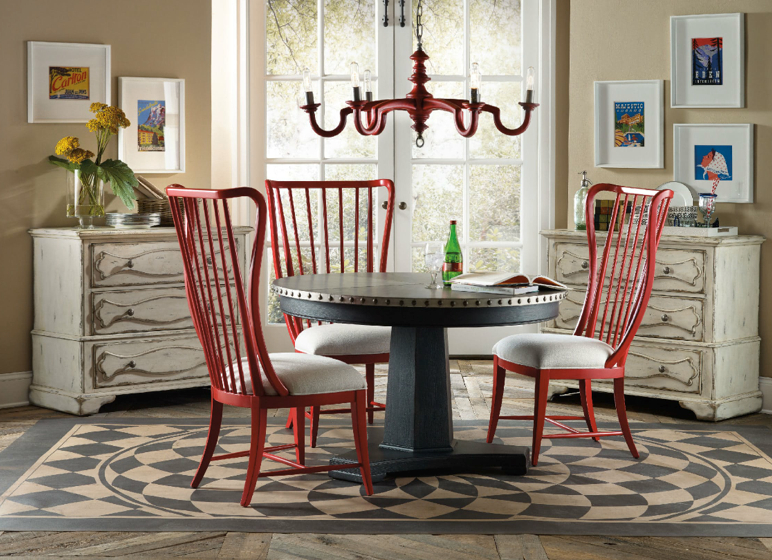 Sit here and table your expectations. Photo: Hooker Furniture
From afar, the Sanctuary Round Aluminum Dining Table looks like a conventional place for your plates. Up close, something unexpected is revealed–a nail head embellished aluminum sheet top that gives this table its hip, urban feel.
In this guest bedroom of her Manhattan penthouse, designer Diane von Furstenburg mesmerizes all who enter with this portrait of Elizabeth Taylor, arguably the most beguiling actress of all time.
With its button-tufted, antique mirrored baroque frame in elegant silver leaf, the Sanctuary Queen Upholstered Bed has an ethereal fairy tale feel fit for royalty.
The Sanctuary Round Lamp Table is more than a handsome accent table. It's also a clever little storage number with front and back doors that open to reveal two spacious shelves for books and knick-knacks.
A jack of all trades, the Sanctuary Four-Door Mirrored Console has mirrored fretwork doors that add architectural interest and lots of sparkle; and is sized right for use in the living room as a traditional display console, as a storage for tabletop in the dining room or the home office as a credenza.
Whether your gathering is small or large, the Sanctuary Mirrored Left and Right Bunching Tables have got you covered. These swanky accent tables nest together with puzzle-like precision to create a multi-level single serving area. Or use them side-by side for bigger bashes.
Looking to add some bewitching style to your home? Head to Hooker Furniture's participating retailers through October 31 for special savings on our Sanctuary Collection.