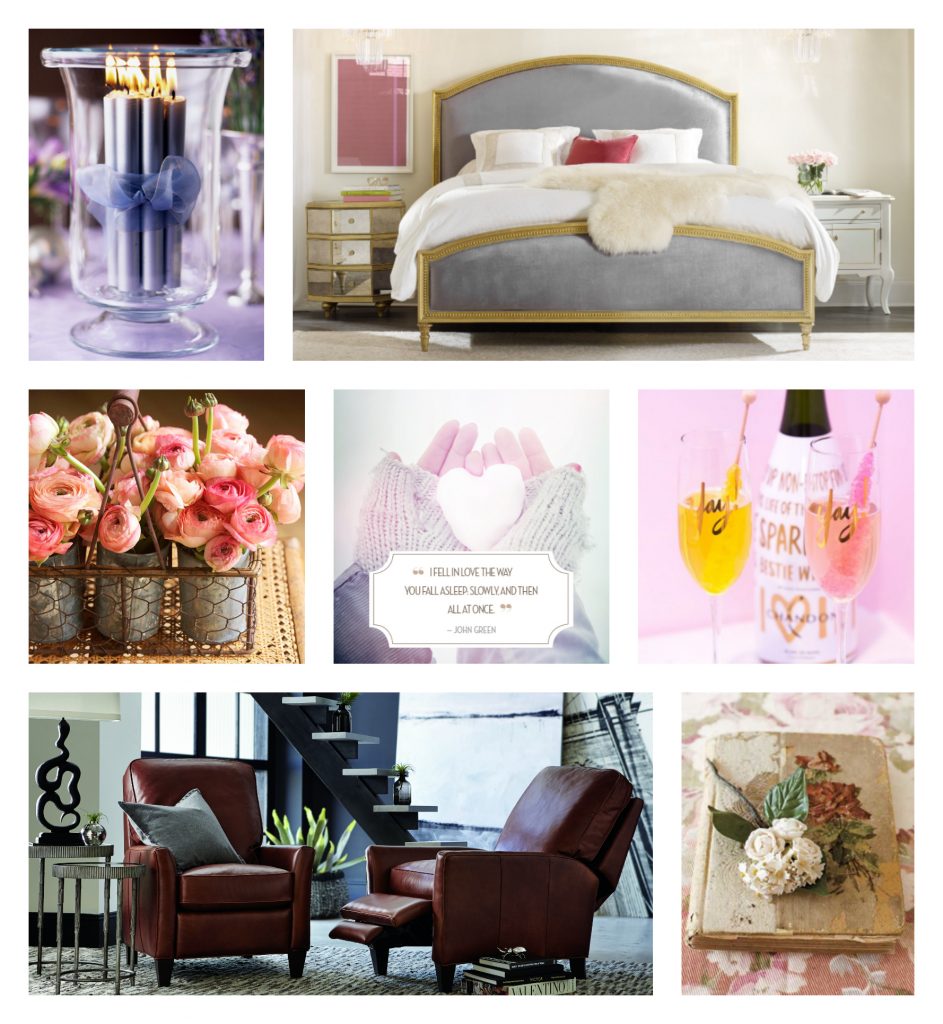 True Romeos and Juliets know that love isn't governed by the flip of a calendar page. And yet, February is when we celebrate the power of Cupid's dart on the heart. So, now's the time to do more than practice your pucker. Light the night with candles. Bloom and swoon. Pop a cork.  Turn a phrase. Read with passion.
In short, write a recipe for romance that'll keep the home fires burning–both now and all year' round.
Get in the Valentine's Day Groove with Decor Designed for a Snuggle and a Cuddle.
Modernist design lovers will flock to the Nest Theory Jay upholstered bed with its clean, simple silhouette wrapped in soft velvet and embellished with plush button-tufting and gleaming pewter nailhead trim.
Jay and all bedroom furniture and leather recliners are on sale now through February 22, so now is a perfect time to refresh your "snuggling and cuddling" furniture. Find a participating retailer here.
In classic French salon style, the Antoinette Gilded King Upholstered Bed is both understated and unmistakably dramatic with a chic wood frame that's beaded, gold-leafed, topped with a removable ribbon pediment and expertly tailored in luxe platinum velvet.
Because its' headboard is crafted of 2-inch thick slabs of solid acacia wood whose interior edges are left in their natural form, each Transcend King Platform Bed is different in a subtle, yet distinct way.
Clean lines and luxe leather give Camber the look of a contemporary wing-back chair and yet, this is a luxe recliner. That's toast-worthy.
Sized right for reading, relaxing and spending time together, the Shasta leather recliners infuse interiors with a touch of transitional style that works well across the design spectrum. 
Make staying in more fun than going out. Hudson Recliners are comfy, cozy perches for enjoying a DIY "date night in a box" filled with romantic movies, favorite beverages and marshmallows for roasting with twigs.
Then, seal the deal with…Wee Chicken and Waffles with Jezebel-Maple Syrup. Quick and easy to make, this delicious recipe is oh-so-right for breakfast in bed or a late-night snack by the fire.
Wee Chicken & Waffles with Jezebel-Maple Syrup
from Southern Appetizers by Denise Gee
Serves 10 to 12, three or four waffles each
Sure, you can make your own bite-size waffles in a special waffle iron, and you can fry your own chicken tenders, but since good commercially available versions are easy to find, do yourself a favor: Pick up others' handiwork to pair with this vivacious, easy-to-make syrup. The tiny treats always get a fun reception, especially as tailgate snacks. Prepared horseradish, a pungent mush of grated horseradish, vinegar, and salt, is most often found in small jars somewhere near a supermarket's cheese case. It's not to be confused with the "creamy horseradish" spread in the mustard aisle.
Jezebel- Maple Syrup:
2 cups maple syrup
¼ cup pineapple preserves
¼ cup apple jelly
1 ½ teaspoon ground black pepper
½ teaspoon salt
40 mini waffles from a 10.9-ounce package, lightly toasted
40 pieces cooked fried popcorn chicken
Finely chopped fresh Italian flat-leaf parsley or green onion for garnish (optional)
Hot sauce for serving
To make the syrup: In a large microwave-safe glass measuring cup with pour spout (one holding at least 3 cups) or a bowl, add the maple syrup, pineapple preserves, apple jelly, horseradish, pepper, and salt; whisk to combine.
Microwave the mixture on high for 35 seconds. (You can also heat it in a small saucepan on low until the mixture is warm.) Stir and taste, adjusting the flavor if desired. Set the syrup aside.
Place the toasted waffles on a large serving platter. Top each waffle with a piece of chicken. Drizzle the chicken-waffle bites with about 1 teaspoon of the syrup. Garnish with the parsley, if desired, and serve with the remaining syrup and hot sauce.
Recipe and photo courtesy of "Southern Appetizers" by Denise Gee, Chronicle Books."