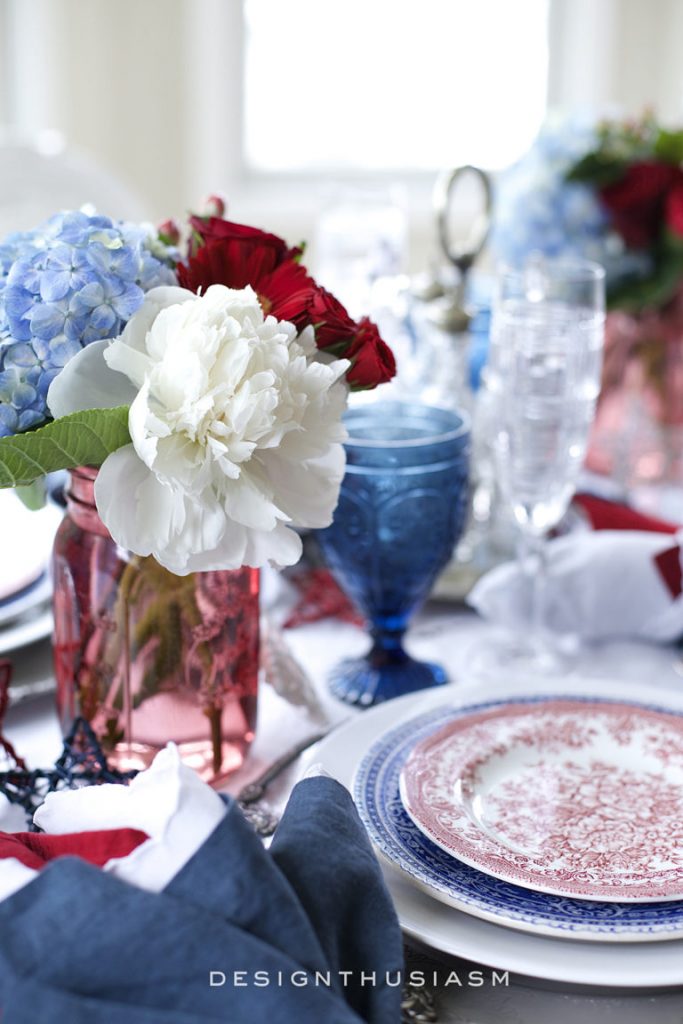 You can't go wrong with a colorful medley of classic china and glassware, as shown with this tablescape. Photo: designenthusiasm.com
 Colorful Style Tips and Recipes for Summer
Summer entertaining kicks off this week with Memorial Day, which means lots of upcoming cookouts, family gatherings and entertaining. It's an ideal time to update your living spaces with fresh colors and creative table styling. Here are some of our favorite ideas for incorporating red, white and blue in ways that are lively, yet livable.
The Melange Saffron Accent Chest is in a livable red finish that lifts your interiors all year long, adding summer's vibrancy to every season. And right now through May 31, 2017, the chest and all living room accent furniture is on sale at participating retailers for Memorial Day.
As functional as these accent bunching tables are, this accent furniture provides the perfect place for holding snacks and drinks–for entertaining and everyday living.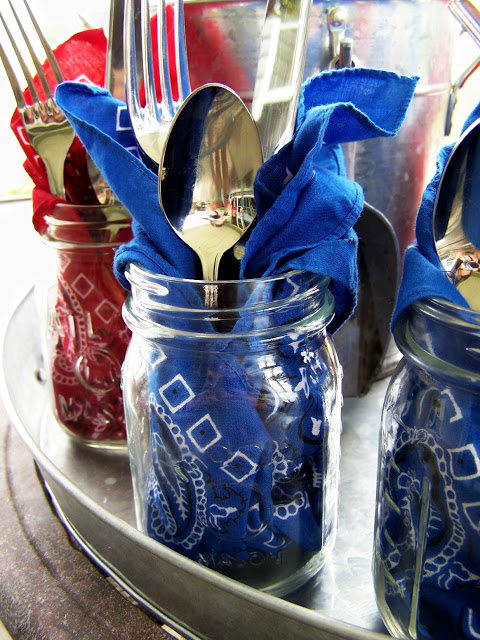 This clever arrangement features bandana-wrapped silverware in mason jars. The bandanas can then be used as napkins, and the mason jars make great drinkware. It works equally well with silver and plastic utensils.
The creamy white of the Sandcastle Dining Table and Chairs is a classic neutral, and gives you the freedom to get creative with wall color, rug and accessory choices.
Savory Summer Recipes
It's hard to beat the refreshment of a melon, berry and cheese salad like this one; here's the recipe:
Watermelon Feta Blueberry Salad
Ingredients:
½ seedless watermelon, cubed (about 8-10 cups)
1 cup blueberries
¼ cup crumbled feta (can use reduced fat)
4 teaspoons mint leaves, chopped
Dressing:
1 lime, juiced
2 teaspoons olive oil
2 teaspoons honey
¼ teaspoon sea salt
Instructions:
Combine the fruit, mint and cheese in a bowl. Whisk dressing together and lightly toss the salad. Serve immediately. Serves 4.
Firecracker Rice Krispie Treats
Offering a new take on an old favorite, Firecracker Rice Krispie Treats are easily made by adding food coloring during the melted marshmallow step. First, make a traditional batch with no coloring. Then, follow the same steps and add red food coloring to your melted marshmallow mix before adding the cereal. Note, it will take a lot of red coloring to make it appear red. Next, create a batch of blue in the same way—again, lots of food coloring, and some experimentation, to get the right color. Finally, cut the batches into squares of the same size and assemble into mini flag strips.
Got a favorite summer decorating idea or recipe you'd like to share? We'd love to hear about it!