Are you related to one of the 70+ million dads in the U.S.? Then it's time to shop because Father's Day is coming! If the search for the perfect present is proving perplexing, pause and ponder this. Like most fellas, yours likely has enough neckties, golf balls and socks to last a lifetime. So resist the temptation to slap a bow on the tried-and-true and call it a day. This year, give dad something really special. 
Go for the wow. Here are seven ways how…
Inspired by hand-wrought ironwork that Hooker Furniture designers discovered during a trip to Texas Hill Country, the Pinta Trail Strong Box Cocktail Table is trimmed out with rustic metal straps and nailheads that add a touch of the Old West to man caves. And there's more…
When Dad opens the top of this refined rustic piece, he'll discover plenty of space to stash his stuff. Inside are two removable trays, a 9-cell wine rack and three deep storage cubbies.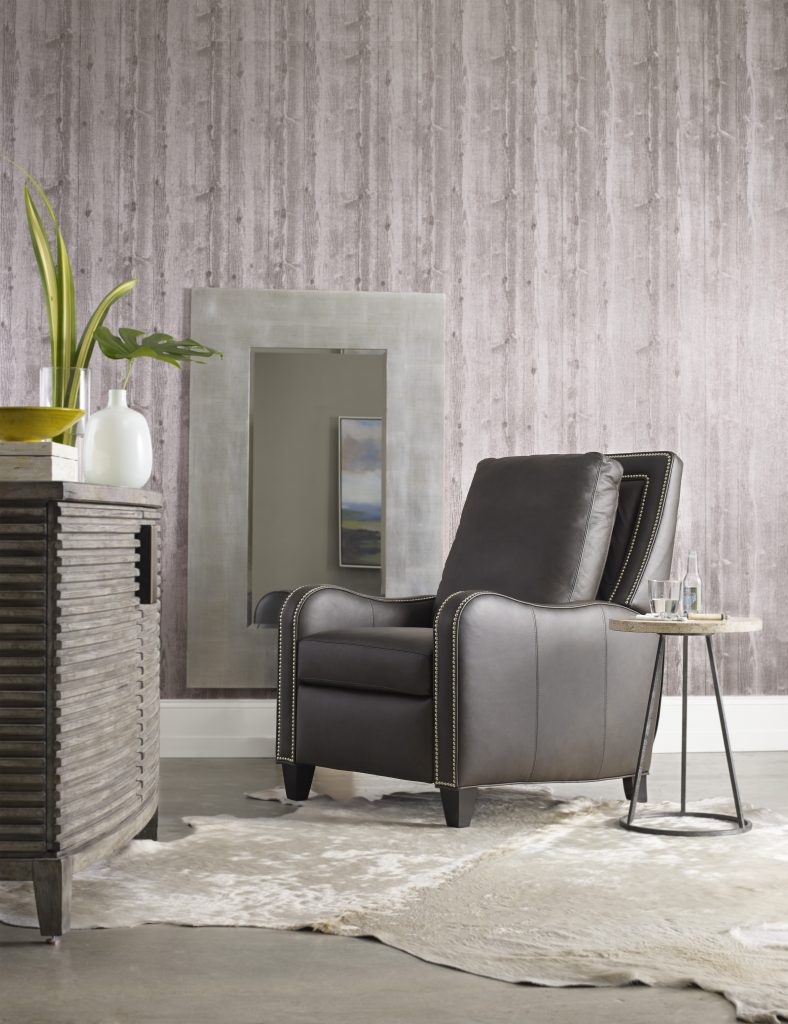 A modern take on a classic, the Greco Reclining Chair is upholstered in luxe leather and embellished with gleaming decorative nailheads that accentuate its streamlined silhouette in a manly way. A power recline option is also available for dads who want to nap like they mean it.
The Studio 7H Record Player/Gaming Console puts a new spin on family fun. This retro-inspired cabinet is designed with designated areas for a turntable and speakers, albums and gaming equipment. It's also outfitted with cutouts for cord management. 
Dads who are into classic fun like chess or checkers will flip their lid for the Flip-Top Game Table. At first glance, this looks like a side table sized right for tucking next to a favorite arm chair or placing in a narrow hall.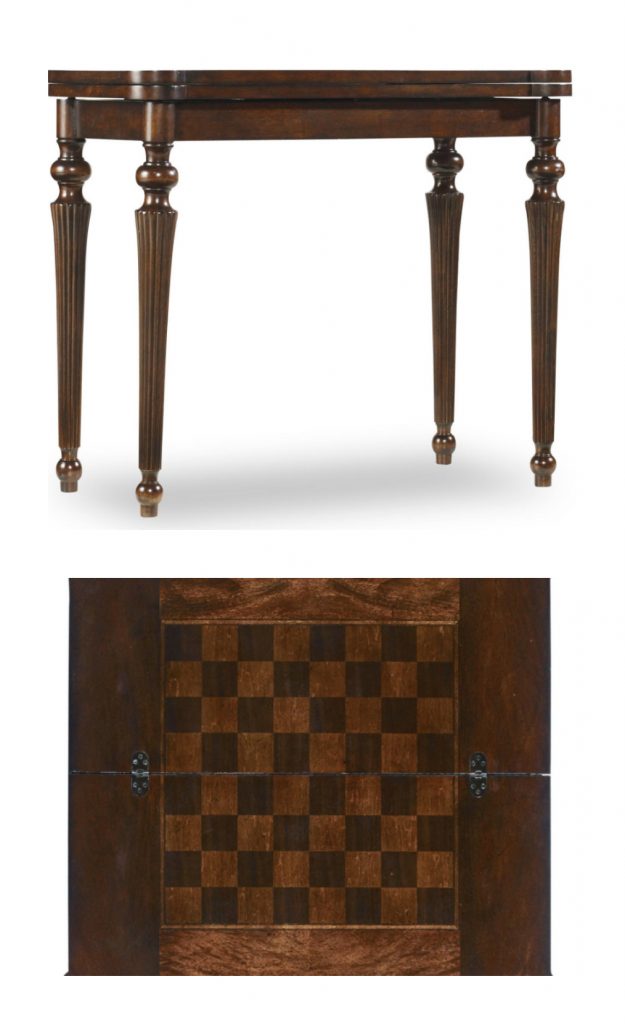 But with a flip of its top, a game board is revealed that's also large enough to do puzzles or play cards on. 
For the dad who loves to eat (and don't they all?), double the wow by serving him a he-man breakfast in bed after he opens his gift. A Chili and Cheese Omelet from "Big Bad Breakfast" by John Currence is bound to impress.
Chili and Cheese Omelet 
from Big Bad Breakfast by John Currence
2 eggs
3 tablespoons whole milk
Pinch of salt
Pinch of black pepper
2 tablespoons clarified butter or your preferred cooking fat
3/4 cup Breakfast Chili (recipe follows), warmed
1/3 cup grated sharp cheddar cheese
1/4 cup sliced green onion, green part only
1/2 serrano chile, sliced (optional)
Combine the eggs, milk, salt, and pepper in a blender and blend on the highest speed for 3 minutes. Meanwhile, warm the clarified butter in an 8-inch nonstick pan over low heat for 1 minute. Pour the eggs directly into the pan and allow to sit for 15 seconds. Turn the heat
to medium and start swirling the pan vigorously over the heat. Continue until the eggs are about 85 percent cooked, about 2 minutes; the omelet should be nice and fluffy. Flip the omelet with a spatula or a ick of the wrist and return to the heat for 10 seconds. Place 1⁄2 cup of the chili on one half of the omelet, top with the cheese and half of the green onions, and gently fold over the other half to cover the filling. Slide onto a plate and top with the remaining 1⁄4 cup chili. Sprinkle the serrano and remaining green onion on top. Serve immediately.
Breakfast Chili
Makes about 8 cups
2 1/2 tablespoons vegetable oil
2 pounds 85 percent lean ground beef
1 tablespoon salt
1 1/2 tablespoons black pepper
1 1/2 cups small diced yellow onion
2 1/2 tablespoons minced garlic
1 tablespoon hot chili powder
2 teaspoons paprika
2 teaspoons ground cumin
1 1/2 teaspoons cayenne pepper
2 cups chicken stock
2 cups tomato sauce
1/4 cup masa (see Note)
Warm a Dutch oven over medium heat for 1 minute. Add the oil and warm for 1 minute more. Add the beef and season lightly with salt and black pepper. Cook, stirring constantly to break up the meat, until the meat is completely browned, 8 to 10 minutes. Remove the meat with a slotted spoon to a bowl and reserve. Pour off all but 4 tablespoons of the fat from the pot.
In the same pot, add the onion and garlic and sauté, stirring constantly, until the onion is almost transparent, about 3 minutes. Return the beef to the pot and stir in the salt, black pepper, chili powder, paprika, cumin, and cayenne followed by the stock, tomato sauce, and masa. Continue stirring until fully blended. Turn the heat to low, cover, and simmer for 25 minutes, stirring every 5 minutes or so. Uncover the pot and simmer for 12 minutes more, or until the chili thickens.
Refrigerate in a plastic container for up to 1 week, or freeze for up to 6 months.
NOTE: Masa is wet ground cornmeal available at most grocery stores.
Reprinted with permission from "Big Bad Breakfast" by John Currence, copyright © 2016. Photography by Ed Anderson. Published by Ten Speed Press, an imprint of Random House LLC .